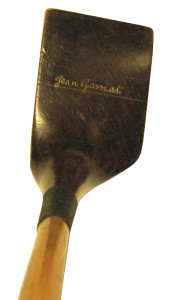 There are few things in life as precious as a fine putter.  Having employed a mallet putter in my modern golf set for years, when I discovered hickory golf, I was keen to find something similar.  As it happens, I was living in Louisville, Kentucky, when I came upon the concept of "period golf."  I played a charity event at Valhalla Golf Club.  Louisville Golf Co. was on the tee at the 8th hole (par three, and my foursome's opening hole), and – as it was the charity's 100th anniversary – every contenstant had to play the hole with hickory clubs from tee to green with a Victor mesh ball that we were then invited to keep.   I was hooked.  The firm was also on the 1st tee box, and we all had to drive with a hickory brassie.  After attaining par on the 1st hole I thought to myself, "this isn't too bad!"  I came to know Mike Just at Louisville Golf fairly well during my years in town and had the rare opportunity to stop into his shop regularly since I was "a local."  One day, I spotted his replica Gassiat in his demo rack, and I bought it on the spot.   Naturally, as with so many of us, the use of a replica often leads to a quest for its original inspiration, and I have since acquired two original Gassiat putters (both Gibson) and putt with one of them even on the rare day that I put my circa 2008 Ping S57s into play (some might argue even those are antiques!).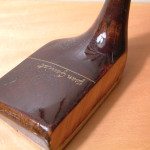 The Gassiat is unusual.  A good one sits square and simply cannot be set-up off line, by design.  The club has many unusual angles to it.  Some think it allowed a ball to be putted with either the face, or the toe (croquet style).  Regardless, it is a brilliant design and original versions include its trademark pistol grip.  The Gassiat that I use daily had an original grip which sadly met its demise in the high humidity of Philadelphia in the summer of 2014.  Replacing the grip allowed me to further appreciate the science behind the butt end of the club.   These were manufactured in fairly large numbers following Jean's win at the Open de France in 1912.  They come up at auction fairly reliably, with sales typically in the $700-$800 range.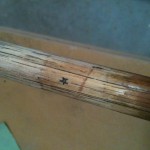 I found a Gibson star imprinted on the shaft of my putter and have since learned that Gibson sometimes used one or two stars to indicate the quality of their shafts.  My second original has a Danga wood shaft, which adds to its value.  These are splendid collectibles and an honor to possess, even if for only one generation.  I hope these putters will give future stewards the same thrill and fascination as they have for me.
-Rob Birman
---
ABOUT GASSIAT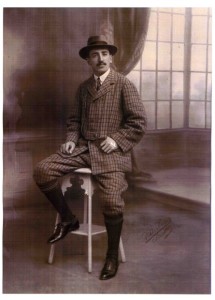 Jean Louis Gassiat was born in Biarritz in 1883.
Famed early French golfer Arnaud Massy discovered Jean in junior golf on the links of Biarritz. Gassiat was the second Frenchman to win the Open de France, which he won in 1912. In 1913, together with Arnaud Massy, Eugene Lafitte and Louis Tellier, they formed the winning quartet in a France vs. America match played in Paris. Pillar of French professional golf from 1907 to 1929, he leaves behind various clubs stamped with his name including the unique and distinctive putter of his creation (sometimes referred to as "the piano putter") as well as the opening nine holes of the golf course in Estoril, Portugal, which Gassiat designed in 1929.
His first professional job was at the golf resort in Baden Baden, Germany, and he became the opening professional of the Golf Club of Chantilly in France, where he taught until the creation of Chiberta resort in 1927 in southwestern France not far from Bilbao, Spain.
Jean Gassiat discovered golf at the age of 12. As a young caddy, he found access to golf and its instruments was highly regulated. Club rules prohibited caddies "the possession of personal golf clubs and access to land outside their function." Any caddy that took even a semblance of a motivation to play with a club of a client was summoned to the offices of the Director and immediately subjected to a layoff.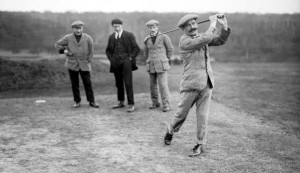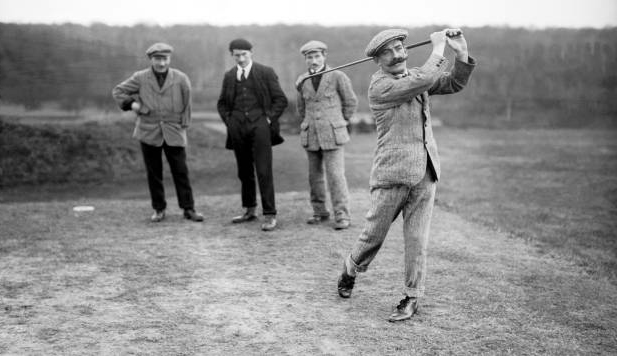 Gassiat, like so many of us at a young age, was amazed by this new game, and the temptation he faced was great. So in order to practice golf, the first caddies at Biarritz created their own course on a vacant lot near the resort, with just a few holes. They had to use their own ingenuity, patience, and not be too demanding as they were using clubs of their own making. This marked the debut of Jean Gassiat, his brother Claude, Eugene Lafitte and other caddies at Biarritz passionate about golf, as well as the late, great Arnaud Massy.
Jean Gassiat was uncommon, in a sense, as he was rather thin in build with narrow shoulders, and taller than the average player for the period (5'8″).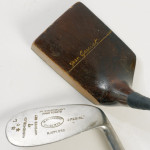 His swing was rather fluid and full of finesse. He was renown for his tempo ("as regular as a clock"), allowing him to have a quality and consistency to his drives rare in the day. But he was known especially for the excellence of his putting, which made him one of the best players of the time. This ability and his mastery in reading greens, was considered well beyond his years of practice and experience. Yet it is his great putter, consisting of a hickory handle and a large rectangular wooden head that he designed at the Chantilly Golf Club that made his reputation.
Known as the Chantilly putter, or Grand Piano or just "the Gassiat," following his win in 1913, it was marketed across Europe and even in the USA. Quickly adopted, the success of the Gassiat putter was immediate.
The first Gassiat putters were manufactured by William M. Winton, Walworth, London – MODEL LCL No. 627732. (sources Ellis). Forgan of St. Andrews and Gibson in Kinghorn also produced this putter with slightly different arrangements of the sole plate. There are also three typical sizes of Gassiat putter, including one very large model.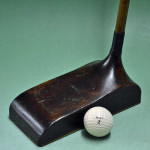 In the 1907 Open de France (which was won for the second consecutive year by Arnaud Massy), Gassiat finished second in front of Taylor, Braid and Vardon, famous players and multiple winners of the British Open.
In 1912, he won the Open de France. Tied after the third round with Harry Vardon and Louis Tellier, he set the course record at Boulie in Versailles with a 37/31 for a round of 68 as his third round in the tournament. None of the three had won this championship. The primary attention was on Harry Vardon, master in the field and three time winner of the British Open. Secondary attention was on Louis Tellier, who also posted a 68 in the third round. A score of 73 in the final round allowed Gassiat to vanquish his opponents, putting him in the company of Massy, Braid and Taylor, all three winners of the British Open, and making Gassiat the second golfer from Biarritz to win the Open de France.
In "The American Golfer," an account of the match includes complaints from Vardon (who lost by one stroke to the 28-year old Gassiat):
"I should add that the British professionals complained that not only were the greens too stiff for proper putting but that the course was far too easy for a championship test, and that, with no wind at all either, they had no opportunity of showing their real capabilities."
That same year, after several attempts at winning the British Open, he obtained his best result with a seventh place finish at Muirfield.
After serving in WWI, Jean Gassiat went back to winning, victorious in 1919 with a second national title on the course of the Boulie (that tournament was played over 36 holes instead of 72).
Gassiat Jean died in 1966 at the age of 83.