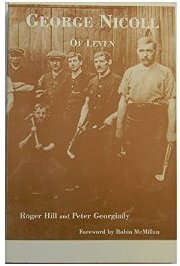 BOOK REVIEW
by Robert A. Birman
George Nicoll of Leven
by Roger Hill and Peter Georgiady
Foreword by Robin McMillan
Published by Airlie Hall Press
Copyright 2003
ISBN 1-886752-18-4
---
The first thing one notices when thumbing through this tidy paperback devoted to the craft of the Nicoll workshop (iron works) of Leven, is the array of black and white photographs that luxuriantly pepper the publication. Scanning from back to front, one begins to instantly identify and appreciate the ingenuity and creative nature that George Nicoll and his family (principally his son Robert, born in 1884, who later led the company into the modern era) applied to the art of forging putters to irons and, in very limited cases, manufacturing woods. It affirms what any first-year enthusiast inevitably discovers upon embracing the condition of the hickory club collector, "there is simply nothing new in golf!"
My eyes fell to the final credit stating that (with but few exceptions) "all photographs in this book are the property of Roger Hill." I presumed, as is the case in Jeffrey Ellis' The Clubmaker's Art, that this simply meant that Mr. Hill visited a number of collections and personally took the photographs. The pithy, entertaining and expert foreword of Robin McMillan set me straight. Roger Hill owned all of these clubs and in their pursuit, was disheartened by the lack of available documentation about this extraordinary club maker and his contributions to our game. What would any reasonable addict do in this instance? Do it himself, of course! (Mr. Hill is quick to note that in spite of numerous efforts to enlist the input of Nicoll's descendants, cooperation was disappointingly withheld.) Hickory enthusiasts everywhere may thank Hill and Georgiady for forging ahead (so to speak) for our lasting benefit.
This absorbing book can be read from cover to cover in a most pleasurable hour. The reader will discover the course of the Nicoll iron work's innovation and approach to improving the players' experience from 1881 to 1981. McMillan's introduction alone is worth the $35 I paid for my copy – it'll have you in stitches while at the same time wishing you were about to play the top Scottish links on your "bucket list" for the first time – it did for me. It is a brilliant example of why Mr. McMillan enjoyed such a noteworthy career (27 years) as a contributor and editor to both Time and Golf Magazine.
The introduction, among other things, explains Georgiady's role in bringing the publication to life. Georgiady, as it happens, "is" Airlie Hall Press, and the Nicoll title was to be his first in a series of publications about "the major manufactures of golf's early days." A web search uncovered ten titles from 1997 to 2009, including value guides and compendiums of British and American club makers, but nothing quite as in-depth on one maker as this splendid example.
Hill's journey of discovery began with his first three hickory shafted clubs – a birthday gift from his wife – that included a James Braid mussel-back Nicoll mashie with the infamous "hand" cleek mark.
Hill and Georgiady (who share credit for the research presented in the book) present a instructive chronological progression of Nicoll's irons, cleek marks, stamped signatures, and innovations in club head design and manufacturing. Personally speaking, I have only been acquainted with and played hickory clubs since 2010, and my inaugural playset is comprised of an amalgam of mix-and-match clubs. Yet I found instant comparisons in Nicoll's work to clubs in my own bag from the Spalding factory in Dysart (a 16-minute drive from Leven), and from Robert Simpson of Carnoustie (only an hour from Leven), which should be of no great surprise.
Nicoll's particular genius seems to have been in marketing his shop's designs both as distinct "product lines" and eventually – for the first time – in "matched" series with evenly distributed shaft weighting throughout the set. (Burke, as example, shafted and sold Nicoll "clubs" c. 1917 as did other well-known manufacturers. Nicoll, for many years, only produced the iron bit the golf club.)
Now, while "there is simply nothing new in golf," even a beginning enthusiast can see immediate distinction in Nicoll's ingenious designs, some of which may truly astonish you. I refer to the subtle hand-forged shape and perimeter weighting on gutty-era irons that influenced the players' chance for success, or the more radical leather-faced cleek, "Able" series irons with colossal toe-weighting, or the more 'modern' 1930s "Akurasy Wizard" series with almost no heft in the toe. Each of the models is clearly articulated, dated and photographed making this as educational as it is motivational. (As a novice, I assumed I would ignore the inclination to "collect." Having read this book, I'm already having second thoughts.)
I feel fortunate to have acquired my own set of early 20th century Nicoll "Precision" irons with their period flange and – in my case – rustless heads. (Author's note: January 16th marks the 116th anniversary of the first patent of the flanged golf iron – no connection with Nicoll.) Hill and Georgiady reproduce numerous advertisements throughout the book that show the enormous progression of marketing techniques pioneered by the firm. A 1914 ad induces its reader to "Ask your Pro to show you the following: The Precision Irons, The F.G. Tait Cleek, The Tait Model Irons and Putters, Nap Model Irons, "Able" Model Irons, "Gray" Model Irons, Clinker Model Irons, Zenith Model Irons, Special Mashie Niblick, Jiggers, Sammy Cleeks, Push Irons, Swan-Neck and Wry-Neck Mashie, Niblicks, Whippet Putter, Nap Putter."
Hill confided to me in an e-mail that he expected the publication of this book in 2003 to "root out" other significant examples of Nicoll's irons that the world had yet to widely know. Surprisingly, this has not happened, which leads him to believe that in spite of the reluctance of the maker's heirs to provide access to their family archives, this publication essentially covers the waterfront.
Hill's personal favorites (which are well represented in the volume) are the 1890s irons that George, himself, made for the Forth Rubber Company. An 1889 write up in Golf Magazine mentions that Forth (an India rubber manufacturer based in Britain) placed an order for 10,000 cleeks and irons from Nicoll to augment their existing gutta percha golf ball line with a complete series of sporting equipment.
Mr. Hill informed me that he has sold much of his beloved collection since the publication of the book. "I was their steward long enough," he says. He reports that he still plays Nicolls and kept a few in the collection most precious to him.
I learned at Mid Pines this fall that Mike Just and Louisville Golf has committed to produce a limited series of replica flanged hickory-shafted irons based on George Nicoll's "Precision" model. I've only had my set of antiques in play for one round thus far, but I suspect that series will do well by their owners.
There are nice extras throughout the book and I applaud Messrs. Hill and Georgiady for their dedication to documenting the work of George Nicoll and his workers at the forge.