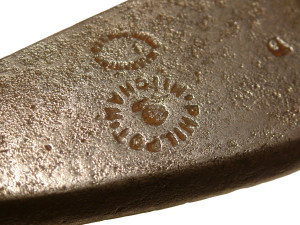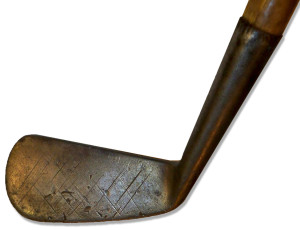 After reading Harry Vardon's The Complete Golfer, I was intrigued by the idea of carrying a short handled iron cleek.  Vardon carried two driving cleeks in his travel set; one for normal conditions and a shortened version for using in high winds.  He felt a shorter club provided him more control, and he advised golfers at the time (1905) to emulate his approach.  I contacted Bob Giorgiade in North Carolina, who happened to have a Robert Condie driving iron in gorgeous condition (without a grip) that was already shortened sometime, most likely, in the 20th century.  For $32, I was in business, and I'm grateful to own this piece of history.
The club is marked with the Robert Condie "rose" cleek mark and "Philpot/Mitcham" on it.  It is a pre-1900 Condie club that has added face scorings to it (not original).  It has been cut down to around 36 1/4′ (probably close to 2 1/2″ to 3″ short) with around 20-degrees of loft.  The "D" on the back is for "Driving Iron" and the club actually has a little bounce to the sole like many other Condies.
– Rob Birman
About William Philpot
William Philpot was born in Bideford, Devon (UK) and began his golfing career in 1870 while living in nearby Westwood Ho, the home of the Royal North Devon and West of England Golf Club having being introduced to the club by Captain Molesworth who was a member and a great golfing character.  [Editor's Note:  Molesworth (real name) was affectionately known as "The Mole" as he was never able to get much launch angle from the tee box (i.e. he played along the ground).  He was, however, a fierce match play opponent due to his accurate iron play and expert green reading.  He's referenced numerous times in Harold Hilton's first book.]
At that time John Allan was the club professional and he allowed Philpot to regularly visit his workshop where he started to learn the art of club making and they formed a good friendship.
Allan offered Philpot a position at Westwood Ho! but he declined the position and left for South Africa.  He returned to England during the early 1890's and spent about a year as the professional at the Royal Artillery Club at Woolwich Arsenal.  In 1894 he took up the same position at Sutton Golf Club before moving in 1896 to the Prince's Golf Club in Mitcham where he became the assistant to Philip Wynne who was the club's professional.  Philpot did not take up the position as professional when Wynne moved to Tooting in 1902, but stayed at the club in the role of their primarily club maker.  It was during this period at Mitcham that he made some of his finest clubs that have now become rare collector's items.  He was known to have an extraordinary knowledge of wood and this is reflected in the clubs that he produced.
In 1910 he crossed the Channel to take up the position of professional at the Lombardzyte G.C. near Ostend in Belgium.  He passed away in Croyden (London) at the age of 86 in 1932 and at that time was the world's oldest golf professional.  During his active career he also became a founder member of the PGA and held the role of Captain before being granted honorary life membership.
Mitcham Golf Course, once one of the most exclusive in the country and now open to the public and membership still enjoys the benefits of those far off days when famous members of Parliament regarded it as their special playground.  The Lords and Commons had many matches here, the Earl of Chesterfield and AJ Balfour were among those who spent their leisure hours at Prince's as the club that was formed over 100 years ago was then called.  Prince's was owned by Sir Henry Mallaby-Deeley, who established a
Prince's course at Sandwich and the influential members of his committee had Mitcham Junction Railway Station built a stones throw from the clubhouse and there it is today, a boon and a blessing to golfers who are whisked in a matter of minutes from the busy City to the peace and quiet of Mitcham golf Club.
The clubhouse was burnt down in 1932 and perhaps the greatest of all historical losses was the big Vellum Book with signatures of the Parliamentary and other distinguished visitors, including that of Mr Disraeli.
The present clubhouse was built on the same site, so it's still only one minute from Mitcham Junction Railway station.  Prince's ended its private career in 1925 and was opened as a public course with membership by the reigning Prime Minister, Mr Ramsay Macdonald.  This came about through the Foundation of Mitcham Village Club in 1907.  This club was composed of local Artisans who were allowed to play on Prince's at certain times.  Mitcham Villagers later bought a successful lawsuit and established the right of the public to play golf on Mitcham Common.  So Mitcham is now a very successful combination of two clubs, Mitcham Golf Club and Mitcham Village Golf Club.
Robert Condie of St. Andrews
Robert Condie, born in Cupar, was another of the great cleekmakers who made the transition from blacksmith.  He trained under James Anderson in Anstruther and Robert White in St. Andrews and opened his first forge and shop in 1890.  He visited America in 1897-98 to take a look at drop-forging methods but felt sure that hand-forging produced a better product.
Recognised as one of the finest craftsmen of his era, his early heads can be identified by the cleek mark of a fern.  Later heads usually carried his name and the more famous cleek mark of a rose.

He brought a case in 1912 against a retired Blebo Craigs publican who, he claimed, hit him with a gun such that his injuries prevented him cycling from his home in Blebo Craigs and having to board in St. Andrews for 10 shillings a week.  Also on account of the injuries he had been unable to attend The Open Championship of 1911 and was a further £50 out of pocket.  Ultimately he won the case and received £40 damages.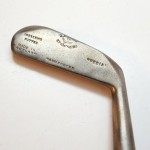 The company became Robert Condie & Sons and continued using the old hand-forging techniques into the 1930s though Robert died from complications after having his appendix removed in 1923.  In February 1934, a new limited company, Robert Condie & Co, was formed with share capital of £1,000.  However, by September of the following year there were advertisements for its sale as a going concern, clearly without success as in November, when a sale of stock, machinery and furnishings was announced, it was by order of the liquidators.