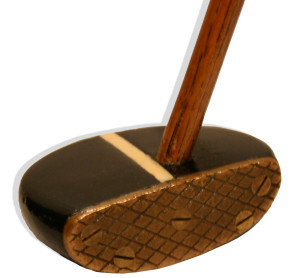 This Willie Dunn model putter includes a shaft stamp of J.W.Watson, pro at Monefieth from 1895-1903. This Dunn model is a original, probably about 1905. Willie Dunn was a Scottish pro, teacher, and renowned clubmaker. Several clubmakers, both in the era and today, have replicated this putter. Its heavy face is balanced with the "new" innovation (at the time) of being center shafted.
– Rob Ahlschwede
---
WILLIAM DUNN JR. born 1865 in the Borough of Blackheath in the suburbs of London where his father was the greenkeeper and club maker. That year the family returned to Leith Thistle Golf Club and were living at 7 Vanburgh Place, Leith Links, Edinburgh. In 1881, Willie Dunn Jr. moved to North Berwick where his older brother Tom Dunn was appointed Keeper of the Green. Willie Dunn Jr. was 15 years old when he played his first match against Ben Sayers at North Berwick and won. Although Sayers won the return match, it brought Dunn to prominence. In 1881 he partnered with Sayers in a money match against the two Fernies at St. Andrews. The first day was halved but the second day Dunn and Sayers won the match by five holes. Willie entered The Open Championship for the first time from North Berwick in 1883 and again in 1884, and 1886.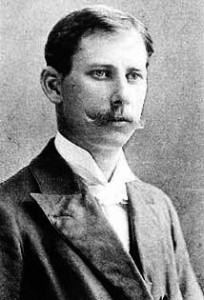 In 1886, Willie Dunn Jr. was asked by Horace Hutchinson to take charge of the links of the Royal North Devon Golf Club at Westward Ho! Dunn remained there for a year and laid out the present course. In 1888, he moved to Royal Epping Forrest in Chingford and laid out their 18 hole course. He spent several winters at Biarritz in France where his brother Tom designed the course while still engaged at North Berwick. Willie Dunn Jr. remained at Biarritz for six years.
In the winter of 1890 while on vacation in the south of France, William K. Vanderbilt and two friends from Southampton (LI), Duncan Cryden and Edward S. Mead of Dodd, Mead & Co., persuaded Willie Dunn Jr. to come to America. He arrived in March 1891 and accepted the post of professional instructor at Shinnecock Hills during the summer months. Willie extended the existing twelve hole course at Shinnecock Hills as well as laying out the nine-hole ladies course. Four years later a combination of the two courses were used to host the 1896 U.S. Open. Willie Dunn Jr. was the first unofficial champion of America in 1894 by defeating another Musselburgh boy, Willie Campbell. In 1895, Dunn was runner-up in the first official U.S. Open championship.
By 1896, after visits to Biarritz in the winter, Willie Dunn with his wife and son Norman settled at the links of Ardsley Country Club in New York. It was here he set up a club manufacturing business and was joined by his nephew John D. Dunn in 1897. Willie opened a retail shop in New York and began experimenting with steel shafted clubs and was the first to use a tee peg. In 1895, he established the first Indoor Golf Centre in America and he continued this facility when his business moved to 9 East, 42 Street New York in 1898, a few blocks away from John D. Dunn's premises. In 1900, Willie Dunn Jr. laid out a private nine-hole course for John D Rockefeller on his Tarrytown Estate, NY.
When Dunn left the Royal North Devon Golf Club he recommended Charles Gibson from North Berwick as his replacement. Bert Way was Dunn's apprentice at North Devon and when he left Shinnecock Hills, Dunn recommended W.H. "Bert" Way as his replacement. John Forman, the Musselburgh caddie, followed Willie Dunn at Ardsley (1898-1901).
Most historians agree that Willie Dunn's influence on the development of the sport in the USA during the early part of the twentieth century was considerable. In the 1920s, Willie Dunn Jr. moved to San Jose in California and continued to design clubs. Willie Dunn died in Putney, Wandsworth, South West London in 1952 and is buried in Putney Vale Cemetery with a headstone inscribed "Willie Dunn Champion of America 1894". He died living off a pension provided by his son Norman W. Dunn who was also a fine golfer, winning the Yorkshire (1926) and Lincolnshire (1934) County Championships and played for England v. Ireland in 1928.
Courses Built
Algona Country Club – Semi-Private in Algona
Apawamis Club, The – Private in Rye
Ardsley Country Club in Ardsley On Hudson
Lakewood Country Club – Semi-Private in Lakewood
Lambton Golf and Country Club – Championship Course in Toronto
Ocean City Golf Course – Public in Ocean City
Saranac Inn Golf & Country Club – Public in Saranac Lake
Shinnecock Hills Golf Course – Private in Southampton