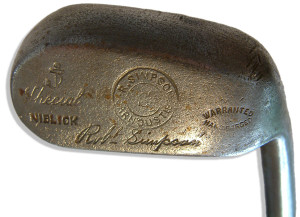 Robert Simpson was an old-school entrepreneur.  This niblick has strong markings and an interesting, boxed shape to the cut of its jib, which is why I bought it for $69 in 2012.  It has a strong shaft an unusually-wide sole.  With all of these attributes, it remains a tricky club to hit!  I love the look of the shape of the small head. It's scacely larger than a rut iron though, which makes precision critical.  The broad sole glides through the turf, and it is enjoyable to use with a controlled, short backswing from within 100 yards.
– Rob Birman
One of the great club makers, Robert Simpson was born in Elie, Scotland (13 miles from St. Andrews) in 1862 came to be associated most prominently with Carnoustie where he was the professional between 1891 and 1898 and where he established his clubmaking business sometime before this.
He began his clubmaking apprenticeship at age 16 with George Forrester and later went to work for Robert Forgan in St. Andrews.  Although not yet 21, he applied for the position of clubmaker with the Dalhousie Club and, out of forty applicants, was successful in gaining the position.  He was soon joined in the business by two of his brothers Jack and Archie Simpson.  Robert, in fact, had five brothers.  Jack, his business partner in 1883, won The Open Championship in 1884 at Prestwick.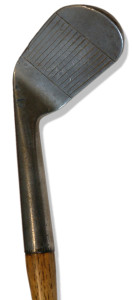 Archie was runner-up in The Open in 1885 at St. Andrews and again in 1890 at Prestwick.  No slouch, Robert himself finished third in 1885 as well.
William Honeyman writing of Bob and Archie in Bauchope's Golfing Annual: 1888-89, notes that they "have their place of business inside the Dalhousie Club House ground, and are much esteemed for their obliging disposition, steadiness, and excellent workmanship."
Not only were the Simpsons fine club makers and players they were exceptional teachers, with Archie being credited with the "Carnoustie Swing," his most notable pupil being Stewart Maiden who after emigrating to America counseled champion Bobby Jones who in 1930 won the grand slam of golf.
Robert Simpson remained at Dalhousie Golf Club in Carnoustie, Scotland, until his death in 1923.  Robert was not only a golf professional but a course designer of some quality, counting a re-design with his friend Old Tom Morris of the Carnoustie links around 1890.  Robert was well trained by his friend Old Tom and is credited with several designs including Royal Aberdeen, Crieff, Oban, Linlithgow, Alyth, Blair Atholl and Edzell.
Robert had many apprentices who learned not only golf but the art of club making from him, a lot of them later travelled to America and other parts of the world taking the Simpson skill with them.  Robert was a craftsman and an innovator in his club making & design, each club being inspected by the man himself before it could be sold or shipped around the world to one of his many customers.
While professional golfers in that long ago era were looked upon as second class citizens, Robert was able to gain the respect of his community and attain a lofty social stature. He not only excelled in the golf business but also enjoyed the arts, associated with royalty and political leaders, and was active in the community.
Today, the Simpson's Golf Shop is a testament to this great golfing family and to Robert's high stature in club making which earned him a global reputation for innovation and quality. The Simpson's Golf Shop, situated on the corner of Links Parade (across from the Carnoustie Golf Hotel) has been trading continuously as a golf shop since 1883 and is reckoned to be the second oldest golf shop in the world.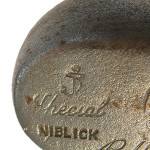 THE SIMPSON & GOURLAY CLEEK MARKS
A renowned maker of iron heads with a crescent moon and star cleekmark, James Gourlay was born in Carnoustie in 1860.  He began as a blacksmith expanding into cleek making which was the predominant part of the business at the time of his death although general blacksmithing work was still done by the firm then and after his death.
In addition to heads for the firm's own use, he produced them for Robert Simpson in the town with an anchor cleek mark.  Gourlay also made Vaile swan-neck putters for F H Ayres in London who held the patent on this design.
Once can find many Simpson clubs on the market today – some (as seen here) with the more common anchor cleek mark, and others (earlier) with the famed crescent moon.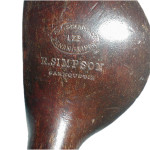 Portions of this page cited from antiquegolfscotland.