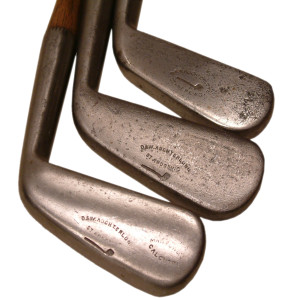 Many who begin the journey of exploring hickory golf one day ponder the notion of venturing into gutty-era play as well.  How is it different?  Will it deliver the same (or more) satisfaction in a round?  Will it prove impossible to assemble a beloved play set in this competitive marketplace?
I came upon a handsome set of four SF clubs at a club swap this year and took note of the fine condition of these clubs and the fact that the three Auchterlonies in the set (pictured) are "pre-registration" Stewarts which means they were produced in 1904 or earlier – this we know.  One is stamped "Manton Calcutta."  Manton was a sporting goods interest based in London that imported equipment into India in the 18th Century – more on Manton here.  All three Auchterlonies have original, stamped shafts from Auchterlonie, St. Andrews.  The fourth club in the set is an Alex Campbell SF mashie niblick (also a Stewart) which is a stunningly nice club as well, but I'll save that one for a later post, as it is post-1904, and not an Auchterlonie.  [For those who don't know, Campbell was the pro at The Country Club in Brookline at the time that Ouimet won the U.S. Open in 1915.  It's possible that Francis could have handled this club in his lifetime, but the same could be said about a vast number of fine players!]
The four clubs are reportedly from the Ralph Livingston collection, and I discovered that they were sold via Mullock's Auctions at the time of the Mid Pines tournament on November 10, 2013 to the collector who re-sold them to me – so this all adds up.  I happily paid $300 for the four SF irons.  (They sold in 2013 for $214 plus buyers' fees, so likely in the $250 range).
There are consistent soles on these SF irons and I've repinned them and replaced the grips.  That said, I have yet to put them in play, but I anticipate doing so this season.  These have lofts of 23, 30 and 40 degrees, which make them similar to a lofter, mashie and a general iron (in reverse order).  As I acquire a complete gutty play set, I am exploring the archives of Auld Golf and learning a great deal about early irons, their maintenance and the fairly strong opinions that surround the "pre-1900" era events.  The question of club dates is a big issue; some arguing that hosel diameter and length can help identify true 1895 and earlier clubs (they being slightly broader and longer in the hosel, as well as in the face, and – no – by that comment I am not referring to Eleanor Roosevelt!)
Smooth face irons were manufactured into the early 1900s and there are plenty of them available in today's market.  I note that the rules for SoHG "Pre-1900" events include the following provision:
Antique irons must be smooth faced and attributable (by markings) to 19th century origin. Irons with no markings must be inspected and approved before the tournament, or at prior GCS, SoHG or CHGA events. Niblicks should be not greater than 2" high x 2.5" wide measured on the flat area of the face. Common clubs categorically allowed (must be smooth faced) include Tom Stewart irons with no registration legend under the pipe mark and/or Stewart irons with serpent mark.
I am in the process of having a gutty ball and a rubber ball shipped to me so that I can begin to truly understand the nature of the ongoing debate within the realm of gutty players.
– Rob Birman
A Quick Review of the Ball
Essayist Andrew Boyd writes, "When Coburn Haskell filed his patent in 1898, the golf ball already boasted a long history. For over four hundred years, artisans had crafted a ball known as the featherie, a hollow sack of leather stuffed with boiled goose feathers. Featherie fabrication came to an abrupt halt when in 1845 Robert Paterson fashioned a ball from the sap of trees found in Malaysia.
Known as gutties, they quickly supplanted featheries because they were so much less expensive than their forebears. And if one happened to fly apart in cold weather, a golfer could easily gather the pieces, boil them, and form them once again into a perfectly good golf ball.
Haskell conceived his idea while he visited his playing partner Bertrand Work, then manager of a Goodrich plant in Akron, Ohio. Though solid rubber is too soft to form a good golf ball, it can be stretched until it reaches a suitable degree of firmness, and herein lay Haskell's insight. Pulling threads of rubber taut and winding them upon themselves yields a superior ball.
Of course, wound rubber has a bad tendency to fly about uncontrollably when let loose, and stories of Haskell's first creative efforts are part of golfing folklore. But Haskell persevered, and with the help of Goodrich engineers early refinements such as an incompressible core about which to wind the threads, a balata cover, and better production techniques, the rudiments of the wound ball were well established within a year of its conception.
Haskell's so-called bounding billies were met with considerable resistance by traditionalists as the market-savvy American promoted his invention. But there's no stopping progress, and the wound ball improved upon the quality most sought after by golfers — distance. The billies were such a success they spawned a burst of creative activity, including patent applications for balls made of steel and springs. Balls filled with compressed gas enjoyed limited commercial success until unwanted explosions proved their undoing.
Remarkable is the fact that the wound ball remained the choice for touring golf professionals for over a hundred years. Despite phenomenal advances in synthetic materials throughout the twentieth century, competing ball designs with one or more solid layers were adopted by only a handful of professionals well into the 1990s."
The Auchterlonies
Douglas MacKenzie writes:
"In less than one hundred years the Auchterlonie family held an Open Champion, a US Open winner and two honorary professionals to the R&A. Surely so high a profile would guarantee plenty of reference material. "Respectable" golf reference books, however, do not even agree whether the first Laurie was involved in the family's clubmaking business (he was). Another claims Willie laid out St Andrews Jubilee course (he did supervise the extension to 18 holes after WWII but it was opened for Queen Victoria's Jubilee in 1897). The PCS Clubmakers' Hall of Fame entry for Willie confuses him with David. Primary source material initially looks more promising. The National Library of Scotland has a folder on the Auchterlonie's clubmaking business (the only clubmaking business for which records are in their archive) but, on inspection, this contains many empty envelopes, pre-printed order acknowledgements and, apart from some largely irrelevant newspaper cuttings, nothing earlier than 1944. There are still plenty clubmakers and collectors active today who knew Laurie or Eric Auchterlonie. On their deaths they took much knowledge of the history of clubmaking in Scotland with them so, if you did learn something from them, or from others, write it down: the historical record is sparse.
Auchterlonie and Crosthwaite
David and Willie Auchterlonie, sons of a St Andrews plumber, both served apprenticeships as clubmakers with Robert Forgan (Bernard Darwin in his biography of James Braid mentions Willie Auchterlonie making clubs to play with as a child, splicing joints and using melted gutty balls for glue). David, with Andrew Crosthwaite, another Forgan clubmaker, left to set up their own business around 1893 in North Street. There is an advertisement for Auchterlonie and Crosthwaite in the 1893 golfing annual but, a photograph of the Forgan workforce (reproduced in Henderson and Stirk's "Golf in the Making") supposedly from 1895 shows both Auchterlonie brothers and Crosthwaite so the problem of even establishing reliable dates of events should be apparent. Although the business only operated for, at most, three years, Auchterlonie and Crosthwaite clubs are in existence, many of the irons bearing a fern cleekmark showing them to be the early forgings of Robert Condie before he adopted the rose as his mark. Quality was high and their reputation spread far beyond Scotland: they were 'successful in opening up a large connection with American golfers, and they have recently appointed Mr. C.C. Bartley, of 58, Warren Street, New York, as their wholesale agent for the States' (according to Golf in September 1895).
D & W Auchterlonie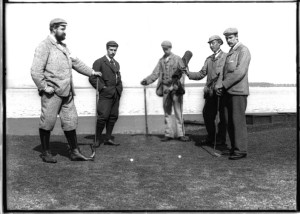 David Auchterlonie was a good amateur golfer but the real playing star was Willie who won the 1893 Open Championship at Prestwick. Sometime after this he joined his brother in clubmaking. This may have been as early as 1894 (a 1901 advert claimed the firm had been founded then though Willie, in the bankruptcy hearings in 1934 stated he had been in business with his brother since 1893!) although the 1899 advert shown here, making a feature of Willie's Open win, did not find it necessary to specify a date. The approaching cleek mentioned in the ad was patented in 1894 and was still in the time of Auchterlonie and Crosthwaite, although it continued to be sold for many years by the new Auchterlonie firm. In any event, as is often the case in family firms, the non-family partner, Andrew Crosthwaite jumped ship, or was pushed, and went into partnership with another ex-Forgan employee, George Lorimer. The 1899 advertisement for their business (the last year before that partnership too was dissolved) shows it to be operating from the same premises he used with the Auchterlonies.
The new firm D & W Auchterlonie started with a shop in Albany Place (where Willie Auchterlonie is standing in the photograph) and a workshop in Union Street. By 1901 they were reported as employing 16 workmen. Willie's fame did no harm to his reputation as a teaching professional and he spent a few summers teaching at North Berwick which the railway had turned into a fashionable resort. As a result, there are some D & W Auchterlonie clubs with a North Berwick stamp, such as the putter in the fourth photograph. David and Willie were joined in the business by two more of the six brothers, first Laurie and, in 1899, by the youngest, Tom. Laurie's greatest talents lay as a player and he crossed the Atlantic in 1899 and was professional at the famous St Andrew's Club in Hastings-on-Hudson. He had three spells as pro here with an interlude in Florida and at the Ravisloe Country Club in Chicago. Chicago was certainly a happy hunting ground for him in his career as a tournament player. He was runner up in the inaugural Western Open in 1899, losing a playoff to Willie Smith but won it on the next occasion it was played, in 1901. Two years later hew was runner-up again, this time to Alex Smith. That first Western Open illustrates the attraction of playing in the US. 12 players were competing for a prize pot of $300 with $125 to the winner. In contrast, J H Taylor would receive £25 as winner of the Open Championship the following year at St Andrews. Laurie's most notable victory in the US was the 1902 Open Championship at Garden City, NY. This was Walter Travis's home course, indeed he had designed it, but he was tied for second, six shots behind Auchterlonie. Laurie competed in the US Open between 1899 and 1909 and, apart from his win, had another four top 5 finishes, all but one of which when the competition was held in the Chicago area. There are clubs produced by Laurie Auchterlonie in the US, or at least with his name on them, including a top-weighted putter from his Chicago days.
Laurie Auchterlonie (brother of David and Willie)
One might have thought from the tone that Willie Auchterlonie was coming to the end of his days when Golf quoted him in 1906, 'I have played golf all my life, practically from my earliest recollection, still I must say that I have always done so entirely from devotion to and love of the game, and that I have never looked upon golf, in itself, as a means of livelihood; but rather I preferred to turn my attention in this matter towards the making of clubs, in which I have always taken the greatest interest and pleasure'. Much though was before him. The business continued to thrive and he was appointed honorary professional to the R&A, a position he held until his death in 1963.
There is no doubt that Willie dominated the clubmaking business and something happened around the time of the First World War. It is not clear whether there was a disagreement, a desire for change among the brothers or just a downturn in business but David left for the Czech spa of Carslbad (now Karlovy Vary) to be professional there in 1912 and later became pro at Potchefstroom in South Africa in the 1920s. Tom, who had been manager of the business, left in 1919 to set up his own clubmaking business in Ellice Place. Willie continued running the business and maintained the strong American connection which he had established in the early days of Auchterlonie and Crosthwaite, Wanamakers (in New York and Philadelphia) seeming to be their principal US reseller. This was not the only export market. A press report in 1897 stated Willie Auchterlonie (and Robert Simpson) were the principal suppliers of golf clubs to Ireland. (Pedants will argue this was not truly export as, at that time, the entire island of Ireland was part of the UK, but you get the point.)
David Auchterlonie's obituaries remarked that he was one of the last clubmakers to introduce steel shafts and the change seems to be what did for the firm. David was too ill to be examined at the sequestration (bankruptcy) hearings in February 1934 but the suggestion was that bad debts and the drop in value of the heavy stock of wood had wiped out the book value of the company. David died three months later. The point about the wood is reinforced by a piece in the Courier in December 1934, 'huge stacks of hickory, some of them roughly shaped into golf shafts, were piled up in Market Street yesterday …. the property of D & W Auchterlonie. This beautifully matured wood might at one time have been invaluable for making golf clubs, but since the introduction of steel shafts, hickory has gone out of demand. The wood has been purchased by a Leven joiner who will use it for an altogether different purpose.'
Golf club patents
The patent approaching cleek has already been mentioned but there were several other innovations in club and ballmaking from the Auchterlonies. An 1899 patent was granted for a putter with a weighted bar along the middle of the club back. In 1913, patent 22,206 was an unusual method of weighting a wooden club, with a cubic weight in the middle of the head, drilling from the bottom of the head being a method previously frowned upon by traditionalists. There is a very modern looking centre-shafted brassie illustrated in The Clubmaker's Art (if you are lucky enough to own a copy) which may have been one of a kind.
Golf ball making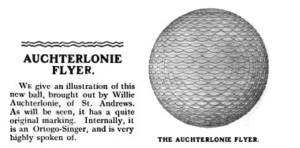 Willie Auchterlonie was no fan of the rubber cored ball, 'The Americans have spoiled the game. That devilish rubber ball just goes too far. The game will never be right again till they come back to the solid ball. When you played with a guttie, the ball said "Hit me true and true I'll fly". But the rubber core, you can hit a dunt anyhow and it'll fly. A half hit shot is a half hit shot. With a rubber core, it could go in the hole.'
Nevertheless there was a business to be run and the public wanted the new rubber-cored ball. The Auchterlonie Flyer was one they offered around 1902-3. The Ortogo (because it "ought to go") was another, a strange beast patented in 1902 (see illustration) which had a revolving steel ball as the core.
Tom Auchterlonie and Son
Whatever reason led Tom to break away from the "main" Auchterlonie firm, he made a success of producing high quality, low volume clubs. The firm began selling clubs from a shop in Ellice Place, St Andrews (from which one range of clubs derives its name) but later moved to Golf Place and a shop which still bears the Auchterlonie name although without family connections. His prism putter (see photograph) , the "Holing-Out" model was a 1924 patent and the "Itz It Itz In" patent of 1926 was the firm's most successful model which, with conversion to steel shaft, lasted well into the 1950s. In 1925 Tom was commissioned to make clubs for the Japanese royal family: each set bearing a lotus blossom cleekmark. The running of the firm was continued by Tom's son Eric and maintained a reputation of great workmanship. The advertisement is from the late 1960s.
The Laurie Auchterlonie Era
Craftsmanship continued in the Auchterlonie business: long into the modern era they were making scareneck wooden putters and the tradition continued when the business was taken over by Willie's son Laurie who 'had magic in those massive hands of his' as one of the eulogists said at the service of thanksgiving for his life in 1988. Keeping the business going was not always easy. The Second World War obviously had an impact and the firm's accountants wrote, in 1944, 'Following our procedure last year, we are not to render any account to you until such time as business picks up'. Even after the war, raw materials were in short supply and British Steel Golf Shafts Ltd confirmed an order in 1948 with the proviso that 'deliveries will be made subject to steel allocations.'
Laurie was an authority on early clubs and their renovation and curator of both the R&A museum (where he followed in his father's footsteps as honorary professional in 1963) and the World Golf Hall of Fame in Pinehurst, NC, but his clubmaking skills were not limited to making the old look good, he made clubs for playing. 'Make me a mashie, a no 8 with a wooden shaft', A R Aitken of Colombo, Sri Lanka, wrote to him in 1949, 'I dislike these present day niblick types for pitching, they never seem to have any balance'. He made a replica 18th century play club for Arnold Palmer who drove himself into office with it as captain of the South Carolina Golf Club before the Heritage Classic and, with six drives, averaged more than 260 yards. A letter from Richard Spears in 1956 confirms receipt of a putter Laurie made for President Eisenhower. It was not just the famous for whom Laurie made clubs and details such as delivery dates and invoices were never uppermost in his mind, 'Will you please send me your bill sometime', pleaded a lady customer in 1954. Donald Eadie, in 1961, offered this plaintive cry, 'I was only 66 years of age when I placed an order for two clubs to match my driver. I am now 68 and failing fast. Can I at least have the use of my driver?'
One obituary noted that, with Laurie's death in August 1988, the last direct link with the craftsmen of the gutta-percha era was lost. On the contrary, his work with museums, and the passing on of his skills and knowledge to collectors and clubmakers, has made that link more solid than ever."