Smooth Face Carrick Cleek & Mashie c.1880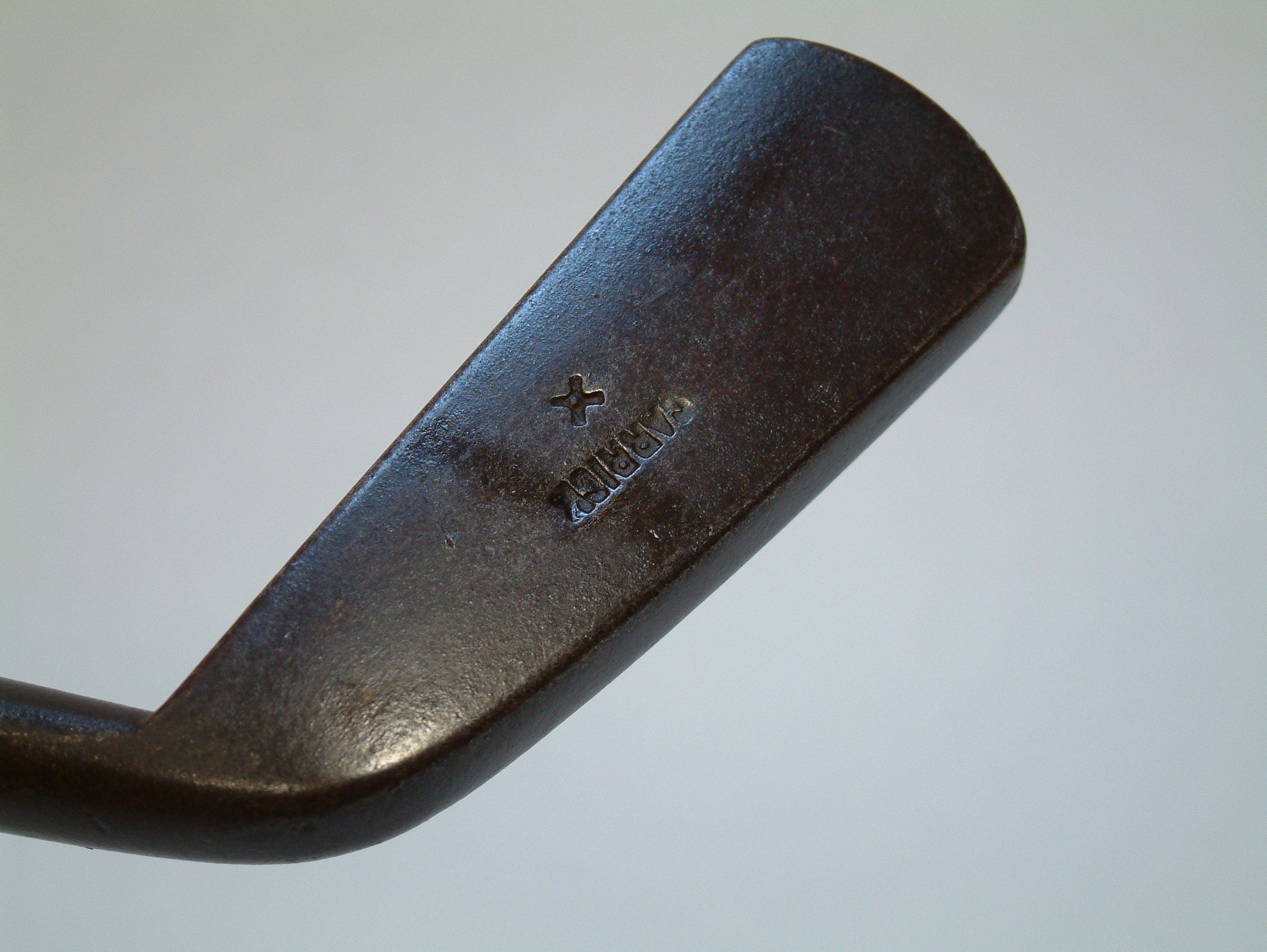 In three letters? OMG.  I am a fortunate steward of a fairly special golf club – a Carrick cleek dating to c. 1880 (see more at end on this). Carrick clubs are collectable for many reasons, one of which is the fact that Alexander Carrick is thought to be the first person to affix his name to his work.  There are premium examples of his clubs in the world, many in fine private collections.  I like this club in particular for two great reasons; 1) it has brilliant markings, and 2) the shaft has a mind-bending flexibility to it – something I found startling on the brisk morning in June 2015 when I first put the club into play.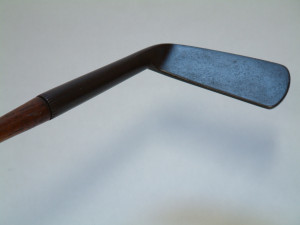 My interest in assembling a c.1890 playset began when I saw Chris McIntyre at the 2015 Arizona Desert Hickory in Sun City, AZ.  Chris trumped out a "Harry Vardon" set that he had assembled; all clubs related to Vardon's era, most – if not all – bearing his name. I had been keen to establish a gutty playset, and purchased some gorgeous SF clubs from the former collection of Ralph Livingston.  However, as Chris pointed out, these were pre-1904 clubs, and representative of turn-of-the-century manufacturing, what some refer to as "transitional," for obvious reasons.  To help me better understand, Chris put some 1890-era clubs in my hands and directed me to his research and articles about early gutty golf clubs on his site, AuldGolfer.com.
As a resident of the Northwest, I found efforts to play true gutty golf difficult in the spring.  The courses are too wet and there is little to no roll.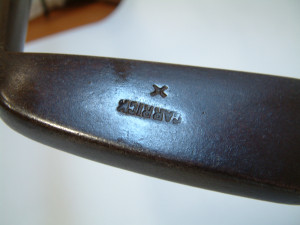 Courses here are often uncut due to rains, making fairways lush and in rare cases, unplayable.  Once the weather turned, and I was able to complete a round with 1890 clubs and a replica gutta percha golf ball, I became quite smitten with the idea of creating my own set of heavy, long, and old clubs.  This Carrick cleek is one of my first purchases, and I'm thrilled to own it.
Cleek marks, now familiar and commonplace, were once a novelty.  They gained more common usage after about 1880, although the very earliest appears to be the Carrick mark, a small cross, dating to the early to mid 1860's. The mark of a cross is not accidental.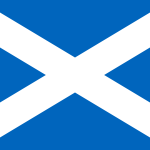 You see, the Carrick family hailed from Athelstaneford, Scotland. According to popular legend, Athelstaneford is where the original Scottish saltire – the white diagonal cross on a sky blue background – was first adopted. On the eve of a battle between an army of the Picts and invading Angles from Northumbria in 832AD, Saint Andrew, who was crucified on a diagonal cross, came to the Pictish King Óengus II in a vision promising victory. The next morning the Picts saw a white cross formed by clouds in the sky. They won the battle and attributed their victory to the blessing of Saint Andrew, adopting his form of the cross as their flag, and naming him as their patron saint.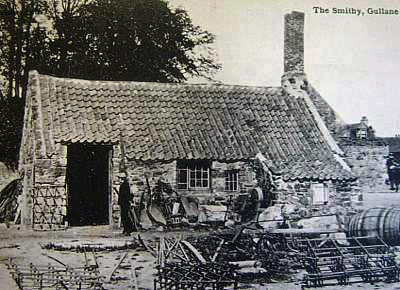 As the wholesale demand for club heads grew in the 1870s through the 1890s, blacksmiths found a lucrative trade in their manufacture. Once Carrick established the idea, it became accepted that smithys would place their mark on the club head, later along with the name of the club maker or seller, who would ultimately finish the shaft and sell the club.
As referenced in one of Chris' articles on his website, "At least one cleek should be in [a] set, maybe two.  There were some with very flexible shafts and long length that were used for full swings, and then others with shorter, firm shafts for shorter swings and run up shots.  Usually from 17 to 30 degrees loft."
I find with this club that its key is a measured take-away, and a very controlled, but free delivery.  The flex in the period shaft demonstrates years of such use – the bend is toward the target (i.e. the shaft flexes at impact toward the line of the strike as the grip and clubhead remain relatively inline.)  This, to me, is a new experience, and once I accepted the sensation, I am completely enamored of it.  The heft of the head takes care of the work.  My ball sails ahead without a lot of muscle power.  A good strike yields 160 yards.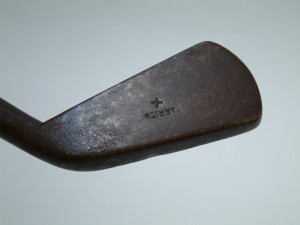 A month after acquiring the cleek, I was fortunate to find it's sister.  We'll call her Matilda the Mashie.  Like the cleek, this club's shaft has a slight bend to the left – not away or toward the player, but toward the target.  That said, it has a massive swingweight and after affixing a nice suede grip right over the extraordinary period grip that came with the club, I've had a ball learning to coax the best out of this antique.
ABOUT THE CARRICK FAMILY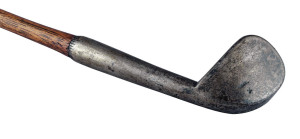 Alexander Carrick born 1762 in Athelstaneford, East Lothian, was a blacksmith and "edge tool" maker. He was joined in the business by his brothers Archibald (b.1789) and Francis (b.1791) when they expanded to 61 High Street, Musselburgh in 1839.  F & A Carrick, where also Golf Cleek Makers in their workshop on Back Street, Inveresk. The business continued with James Carrick (b.1827) at 1 New Street, Fisherrow until 1908. James lived at 132 North High Street, Musselburgh. Popular with collectors today is the smooth faced Carrick lofting iron with a hickory shaft supplied by R. Forgan & Sons, St Andrews.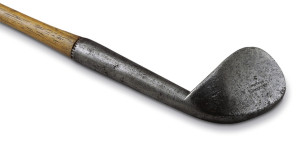 A search under "Athelstaneford" brings up a national commercial directory of Scotland from 1837, which lists "Alexander Carrick & Sons, smiths and edge tool makers."  Of Athelstaneford, the tome reports, "This parish lies on the north-east boundary of that of Haddington, and is separated on the north by Dirleton, from the mouth of the Forth; and the small village lies within 5.5 miles south of North Berwick.  It contains a neat modern church and parochial school, a brewery and a manufactory for edge tools.  This parish possess considerable interest from the circumstances of having for its ministers successively, in the early part of the last century, two men of eminent poetical genius – Blair and Home."
A map of the region says it all.  The Carrick family hailed from a tiny hamlet, situated in the heart of the coastal region just east of Edinburgh.  It is surrounded by names all too familiar to us today.  North Berwick, Gullane, Craigielaw, Musselburgh.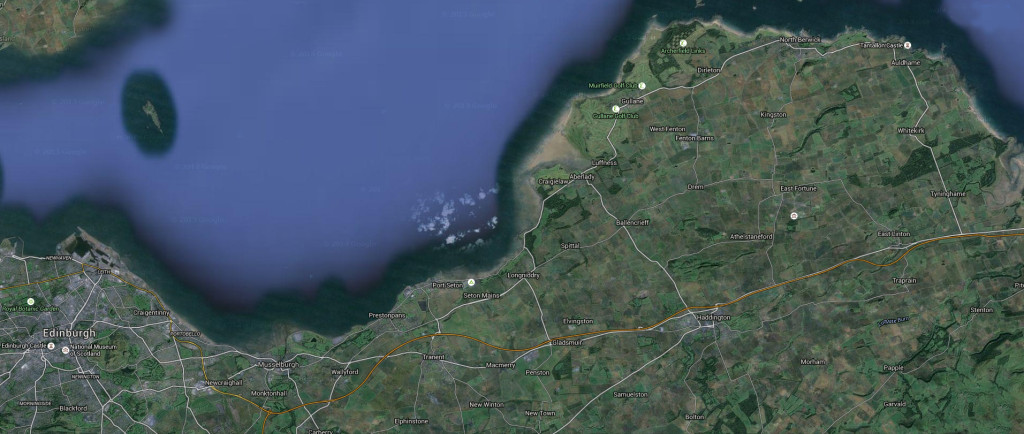 Very little information seems easily available online about these masters of the forge, although many fine clubs have been auctioned through the years by the leading auction houses of the world.  They are a marvel to behold and a treasure to swing!
– Rob Birman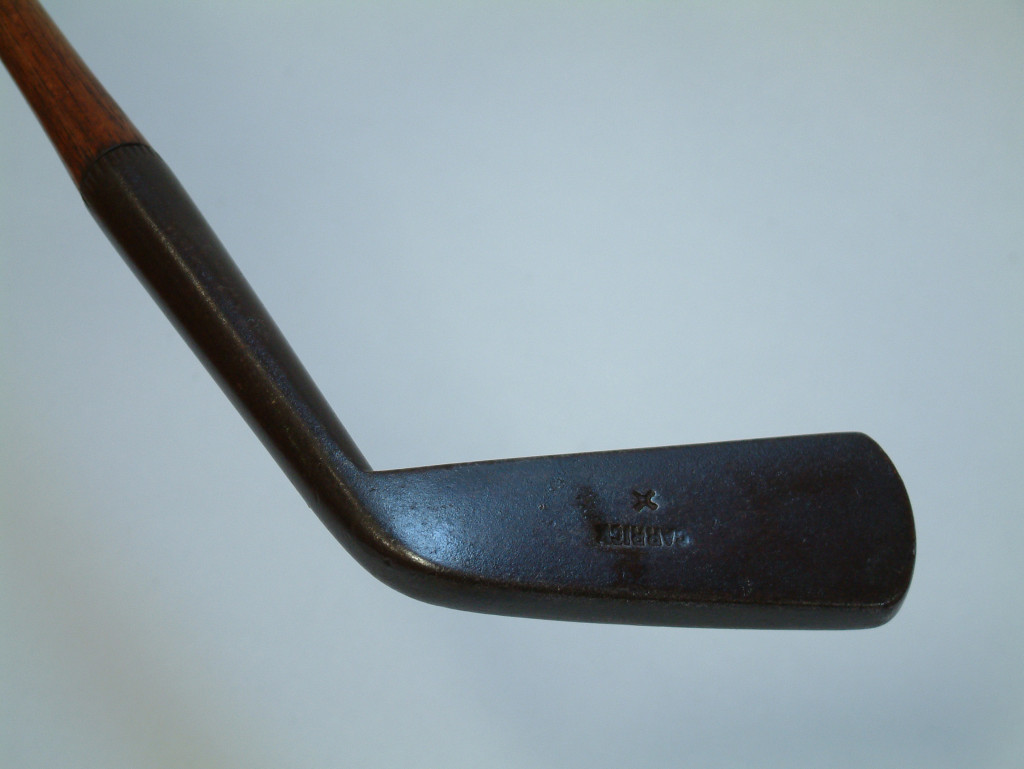 ---
Appendix:
In searching the web, I found this 2010 listing on Bonham's auction site…the same markings as these two of my several Carrick clubs, listed as 1870s.  I suspect that date is wrong based on the other Carricks in the post, but I'll claim 1880s on these two as a hedge.