Heritage Golf Baffing Spoon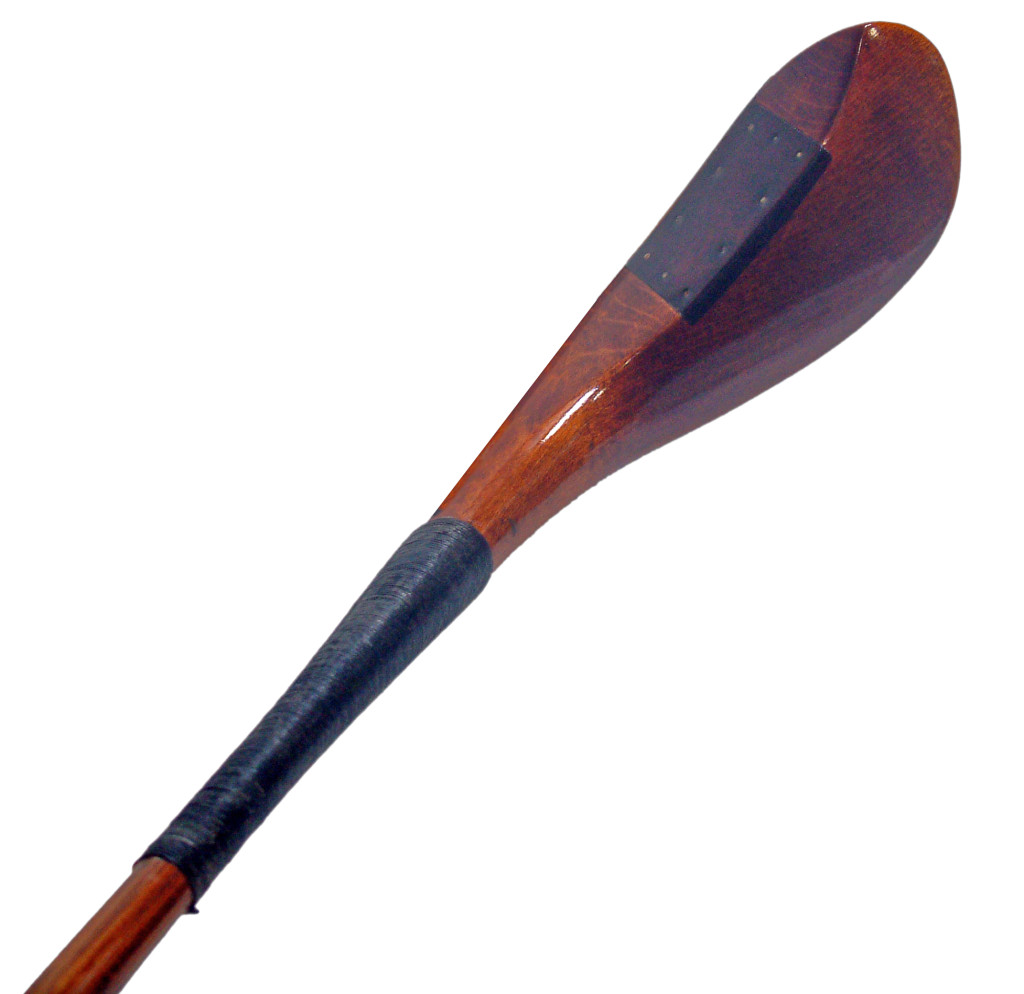 Heritage Golf of St. Andrews is a respected maker of modern golf clubs. It is also one of the few firms that uses traditional skills to handcraft historically accurate wooden golf clubs and traditional-style golf balls.
Beginning with wood and metal, Heritage Golf's craftspeople turn, cast, sand, stain, and finish wood and metal into reproductions of early 19th-century golf clubs by such famous Scottish makers as Forgan, McEwan, Philp, and Patrick. Heritage also produces sets of Tom Stewart clubs based on those popularized by golf champions Bobby Jones, Jr., in the 1920s. Modern clubs are pre-molded and assembled in fewer than a dozen steps, but more than 58 separate operations are required to handcraft high-quality traditional wooden golf clubs. Traditional wooden clubs are enjoying a revival, and many of the reproduction sets are used by players today.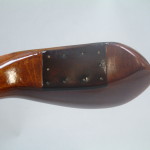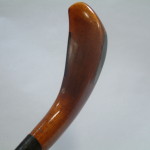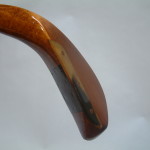 I acquired this club via eBay in January 2016 for $199.  Having already assembled a complete set of 1890s weapons, I thought this would be an ideal mate for my 2015 Kelly Leonard longnose brassie.  The brassie I can hit about 185 yards.  This one is more in the range of 150-160 and its hooked face makes it a thrill to work.  It has a high-C swingweight and scare joint (of course), with a leather insert and a suede grip.  The club length is 40″.
Heritage Golf also makes traditional-style golf balls, including gutta percha balls, based on an 1844 original that uses the solidified sap from the Malaysian sapodilla tree. Replica feathery balls (the feathery was first introduced in 1618) are made by hand-sewing a leather skin, reversing it, and then stuffing it with enough feathers to fill "one top hat and a half."
Barry Kerr, Heritage Golf's former Managing Director, is a fourth-generation golf club maker, who served an apprenticeship in his native Yorkshire before moving to St. Andrews more than thirty years ago. Today, Heritage employs 10 craftspeople in its St. Andrews shop, including master craftsman Angus McLean.
An actor asked Kerr if he would be interested in fashioning some new sticks for use in an Byre Theatre production about Old Tom Morris. This was to be performed each night during the week of the Open Championship in 1990. The fully-playable set of facsimile clubs was to consist of 'The Doctor', (Alan Robertson's playclub which he used in the first sub 80 round recorded over the Old Course 5th September 1859), a Forgan long spoon, Tom Morris short spoon, Hugh Philp baffing spoon and Tom Morris putter. There were also two iron headed clubs, a dish faced cleek and rut iron. The set of 7 clubs would have been typical of a professional golfers requisites during the last quarter of the 19th century. After 20 years of intensive use by "Old Tom," only the baffing spoon, (wooden wedge), needed to be replaced, confirmation as to the strength of the old clubs.
In 1994, Kerr got involved with a group of players dedicated to promoting hickory play. At this point his advice was sought with regard to the feasibility of hickory for regular play, which clubs would be required, from what period, how many in a set and whether the sets be reproduced at reasonable cost. After viewing a selection of original clubs, a five-club set c.1890 was decided upon, these were considered both strong enough and design-friendly enough to be used by a modern player. My baffing spoon is similar to what Kerr reproduced for those sets, although he believes this particular club dates to earlier than 1994, as it does not carry his individual maker's mark.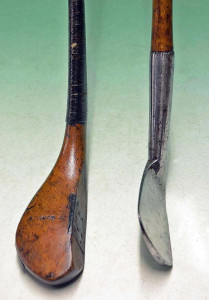 It would be a straightforward business to replicate the iron clubs from the originals with moulds being created to produce wax heads for investment casting. The hickory shafts and leather grips being relatively easy to fit. It would however require a little more skill to reproduce the transitional headed wood, (so called as the head was shorter from heel to toe yet beefier in all other dimensions to withstand the solid ball than the long nose feathery clubs that preceded it). Its brass sole plate and leather face insert were added protection from the rock hard gutta perch balls. As a matter for consideration, below is a list of 42 separate operations, which are required to be carried out by a clubmaker to produce such a wood. By comparison, a modern metal wood usually has three components, (four if a ferrule is used), which can be assembled in less than one minute by an unskilled person working on a modern assembly line.
Stages in the production of a transitional wood, 1) select dried timber, 2) mark out head profile, 3) break out head from plank, 4) select suitable shaft and cut scarf joint, 5) shape head to rough contours, 6) cut scarf joint on head, 7) cut lead weight port and keys, 8) fit crest, melt and pour lead, 9) secure and file lead back weight, 10) mark and cut horn rebate, 11) fit horn and dowel to sole, 12) cut brass sole plate from sheet, 13) file sole to adjust lie, 14) shape and screw sole plate to head, 15) sand head to finished size, 16) glue and bind shaft to head, 17) blend scarf joint head and shaft, 18) scrape shaft to correct flex, 19) seal shaft grain with pitch, 20) waterproof shaft with resinous varnish 3 coats, 21) file face to adjust loft, 22) sand head to fine finish, 23) seal head with sanding sealer, 24) stain head, 25) bring shaft to gloss finish, 26) stamp head and shaft with makers mark, 27) rag on 3 coats of varnish to head, 28) mark grip length and roughen listing area, 29) apply pitch, 30) wind on base layer of listing, 31) roll listing to shaft, 32) pitch first layer of listing and wind on second layer, 33) roll second layer, pitch and wind on third layer, 34) trim and roll listings to shape, 35) select and cut leather grip to size, 36) pitch 3rd listing and wind on leather grip, 37) heavy roll leather grip to required size and shape, 38) trim grip and tack at both ends, 39) whip top and bottom of grip, 40) whip scarf joint, 41) trim, seal and shape butt end of shaft, 42) seal all whipping with varnish, wax and buff head/shaft.