[Material for this write-up was gathered from multiple Internet sources]
D McEwan & Son (Mussleburgh) was the oldest clubmaking firm in the world when it stopped producing in 1895. James McEwan started the business in 1770 in Leith and another six generations followed him in the trade. The earliest clubs had a thistle mark and are extremely rare and valuable. The 3rd generation McEwan, Douglas (maker of this club) made especially beautiful clubs and they are sought after by collectors.
This smooth faced lofting iron has a sharp, two-line shaft stamp reading D. McEWAN & SON, MUSSELBURGH."  The shaft is greenheart and the original grip, sheepskin with period underlisting.  I estimate the date of this club to be 1895.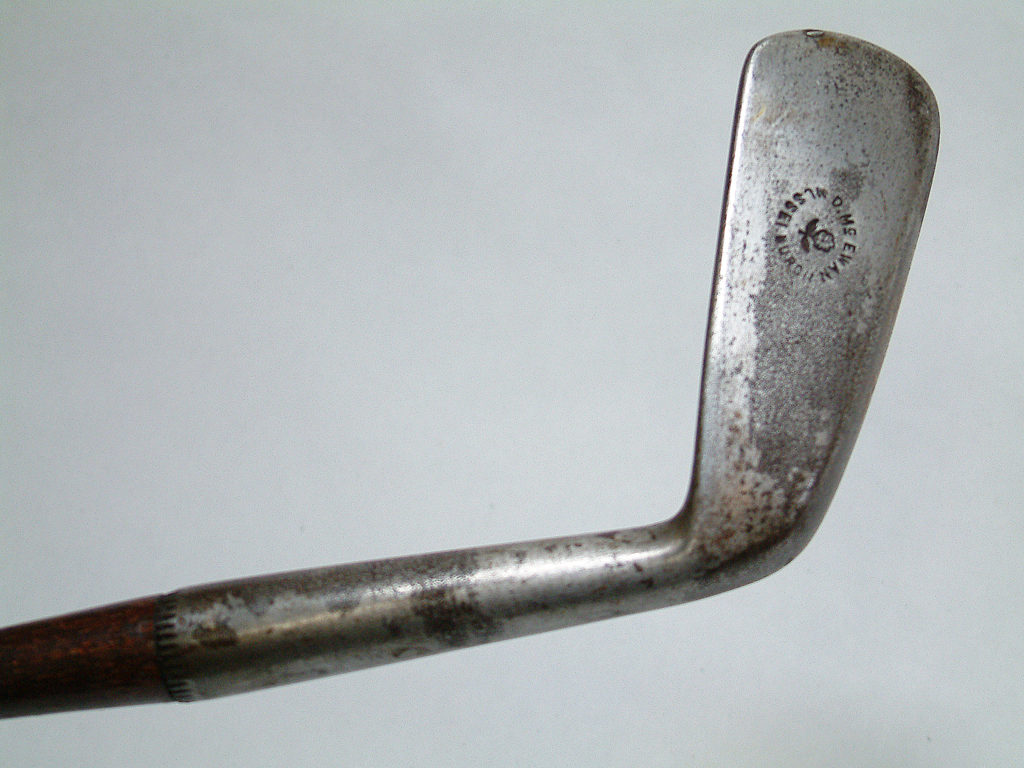 It bears the Robert Condie rose mark, common with this era McEwan irons.  Robert Condie was another of the great cleekmakers who made the transition from blacksmith. He trained under James Anderson in Anstruther and Robert White in St. Andrews and opened his first forge and shop in 1890. He visited America in 1897-1898 to take a look at drop-forging methods but felt sure that hand-forging produced a better product.
Recognised as one of the finest craftsmen of his era, Condie's early heads can be identified by the cleek mark of a fern. Later heads usually carried his name and the more famous cleek mark of a rose.
James McEwan was succeeded in the family business by his son, Peter, who married a daughter of Douglas Gourlay, the well-known featherie ballmaker. Peter McEwan, Sr. (1834-1895) was a Scottish professional golfer and clubmaker as well. He placed sixth in the 1861 Open Championship.
Peter's son Douglas took over the business and was then followed by the great-grandson of James, Peter. Peter's son, Douglas and great-great-grandson of James, carried on the traditional craft, while Peter McEwan, his son, also a clubmaker and professional, was the great-great-great-grandson of the founder.
The McEwan family rightly earned a pre-eminent reputation as clubmakers and at one time supplied clubs to Aberdeen, Montrose, Perth, North Manchester and Blackheath, as well as Bruntsfield and Musselburgh; they also supplied clubs and carried out repairs for the members of the Royal and Ancient. David Robertson, of the famous ballmaking family and father of Allan, was their agent at St Andrews for a time. They opened clubmaking premises at Musselburgh in 1847, when the playing of golf became difficult at Bruntsfield and, at one time, had similar premises at Gullane. They had connections with Loretto School, residing as it does alongside the Musselburgh School.
The McEwans' clubs were considered every bit as good as the 'master clubmaker' Hugh Philp and several golfers of the late 19th century, including the famed writer Bernard Darwin, thought that the McEwans' putters were superior to Philp's. Perhaps the most important feature of their clubs was that, while being graceful and finely finished, they were also sturdy and strong: Philp's clubs were considered by many to be slightly too fine in the neck, and therefore liable to split and crack. For most of their working lives the McEwan family made the long nosed clubs but, by 1885, they had changed to making bulger clubs which were much in demand. With the arrival of the socket head clubs and mechanisation, the McEwans as a family bowed out of clubmaking and, although Peter McEwan had five sons who were all clubmakers, the concern ceased operations as a family business in 1897. Succeeding generations of McEwans earned a living as golf professionals around the country and so continued the family involvement in matters golf.
Clubs with McEwan stamped on the head can be seen in many collections. The R&A has some excellent examples (including the only known example of a club by James McEwan, complete with thistle mark), and there are some beautiful clubs at Muirfield, Woking, Royal Wimbledon and Royal St George Golf Clubs.
McEwan's factory at Musselburgh in the latter part of the 1800s was a hive of industry and many of the finest clubmakers served their time there. Peter McEwan, the last of six generations, was professional at Nairn for many years and prior to that was at Preston and Barassie.
The McEwan family of clubmakers was the oldest established and most famous family business in the golf trade. In 1770 (the same year as Beethoven and Wordsworth were born) James McEwan, born in Stirling, set up in Edinburgh where he became clubmaker to members of the Bruntsfield club. He started life as a joiner and cartwright although he must have had some training in the craft of clubmaking before coming to the capital. Examples of his work are few and far between, but a rare club does exist in the Royal & Ancient holdings in their clubhouse in St Andrews. The head is stamped, uniquely, J McEwan with a thistle mark above.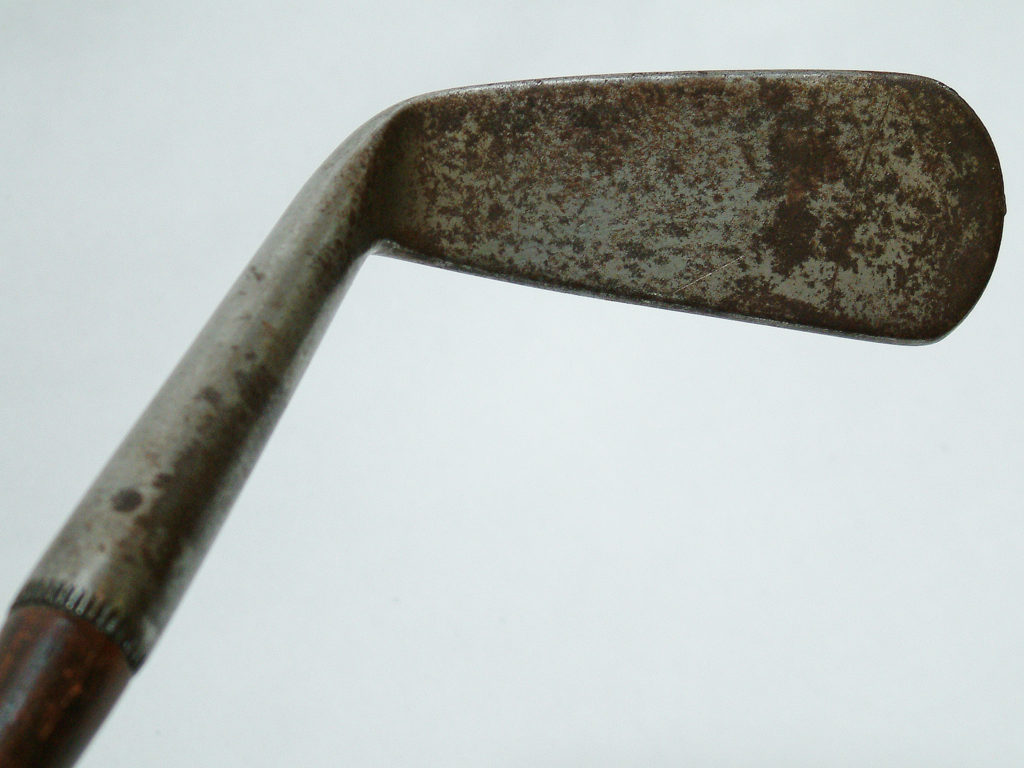 As cited earlier, James was followed in the family business by Peter McEwan (1781-1836). Peter was 21 when his father died but he was clearly a young man of talent and drive for, by 1820, he had three men working for him. Clubs made by him certainly exist but the attribution of McEwan clubs to individual McEwans in impossible as, after James McEwan's death, the family simply put the name McEwan on their clubs – with no initial. The McEwan family lived in a small group of houses, known collectively as Wright's Houses, at Bruntsfield. In 1780 they acquired neighbors called Gourlay. Douglas Gourlay came from Musselburgh and was the acknowledged master feather ballmaker of his time. In 1802 Jean Gourlay married Peter McEwan. As Douglas Gourlay had three sons, all in the feather ballmaking business, Bruntsfield GC had a complete club and ball making service provided by the two families, who not only lived near one another but were linked by marriage. The clubs made by Peter McEwan would have had blackthorn heads and ash shafts. He was a well known and respected maker of clubs.
Peter McEwan had two sons, Douglas (1809-1886) and James (1805-1836). Douglas followed in his father's footsteps and became a very famous clubmaker. James was apprenticed to Gourlay and became a ballmaker; we do not know a great deal about James because he died at the age of 31, by a curious and sad coincidence on the same day as his father. Douglas continued in business until his death in 1886, when he was succeeded by his son, Peter (1834-1895).
The third Peter (1873-1942) continued in the family tradition and was the pro at Southport and Huddersfield, and his four brothers also served as professionals. The fourth Peter McEwan (1895-1972) was the pro at Preston, Kilmarnock and Nairn before retiring to St Andrews.
This was a unique family totally involved in professional golf, who (though they were principally clubmakers) were also first-class players.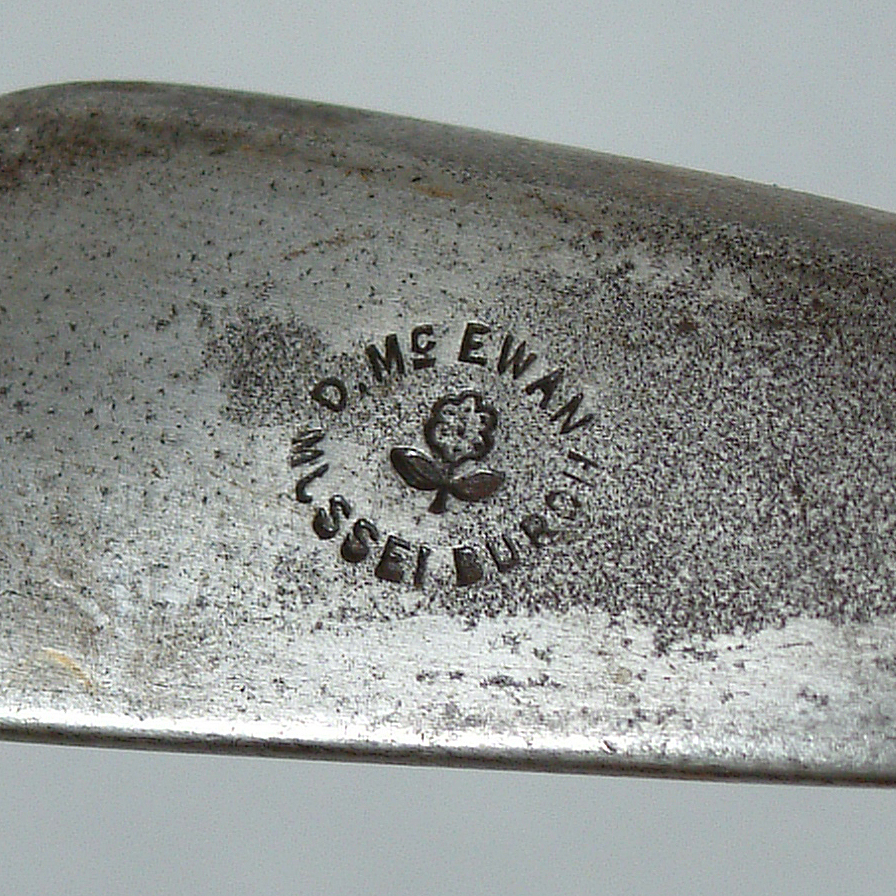 SHAFTS
The golf shafts in the 17th and 18th centuries were not yet made of hickory, but rather from ash and hazel or whatever hardwood was available locally including wood from trees such as danga wood, ironheart, purpleheart, greenheart, bloomahoo and bulletwood. The U.S. used other woods from what was being used in Great Britain, including ash and lancewood.
Club heads were made from tough woods such as beech, holly, apple and pear. These were connected to the shaft using a splint and then bound using leather straps.  It wasn't until the mid-1800's that hickory made its first appearance. Robert Forgan the Scottish club maker introduced hickory imported from America to make shafts. These early Shipments of hickory were originally intended to be axe handles.
Hickory soon earned the reputation as being the best wood for shafts given its strength and durability. It wasn't too flexible or too heavy. Club builders had their own preferences on the different types of hickory, such as red, brown or white.
By the early 1890's, hickory was the primary wood used in all golf shafts.