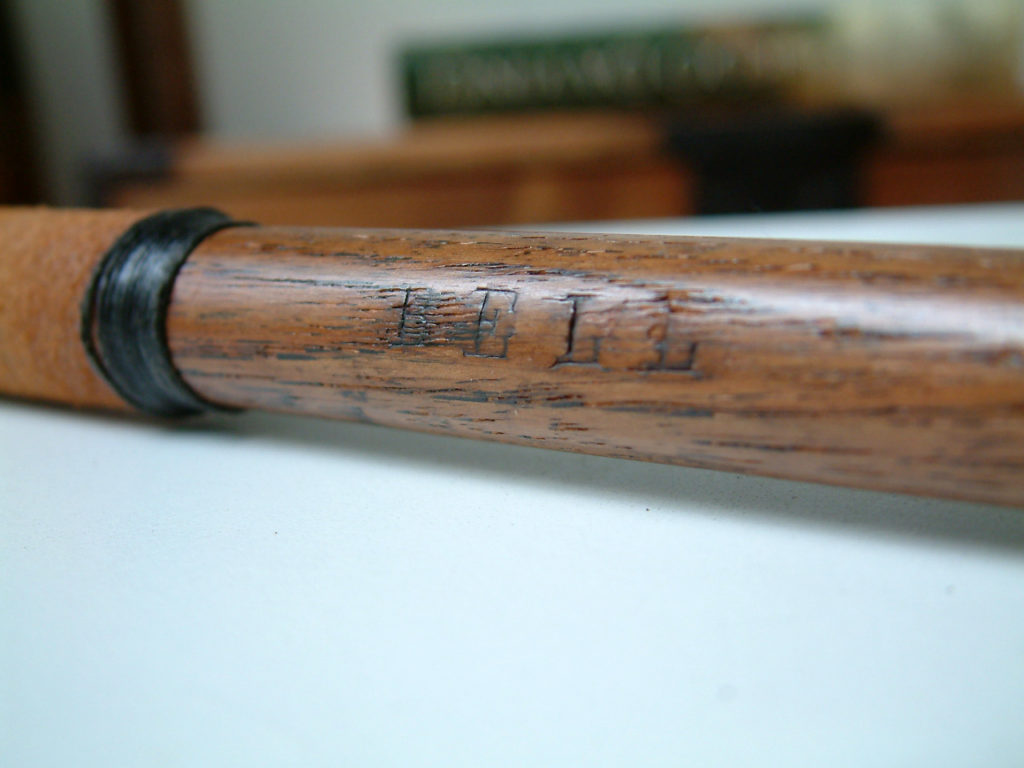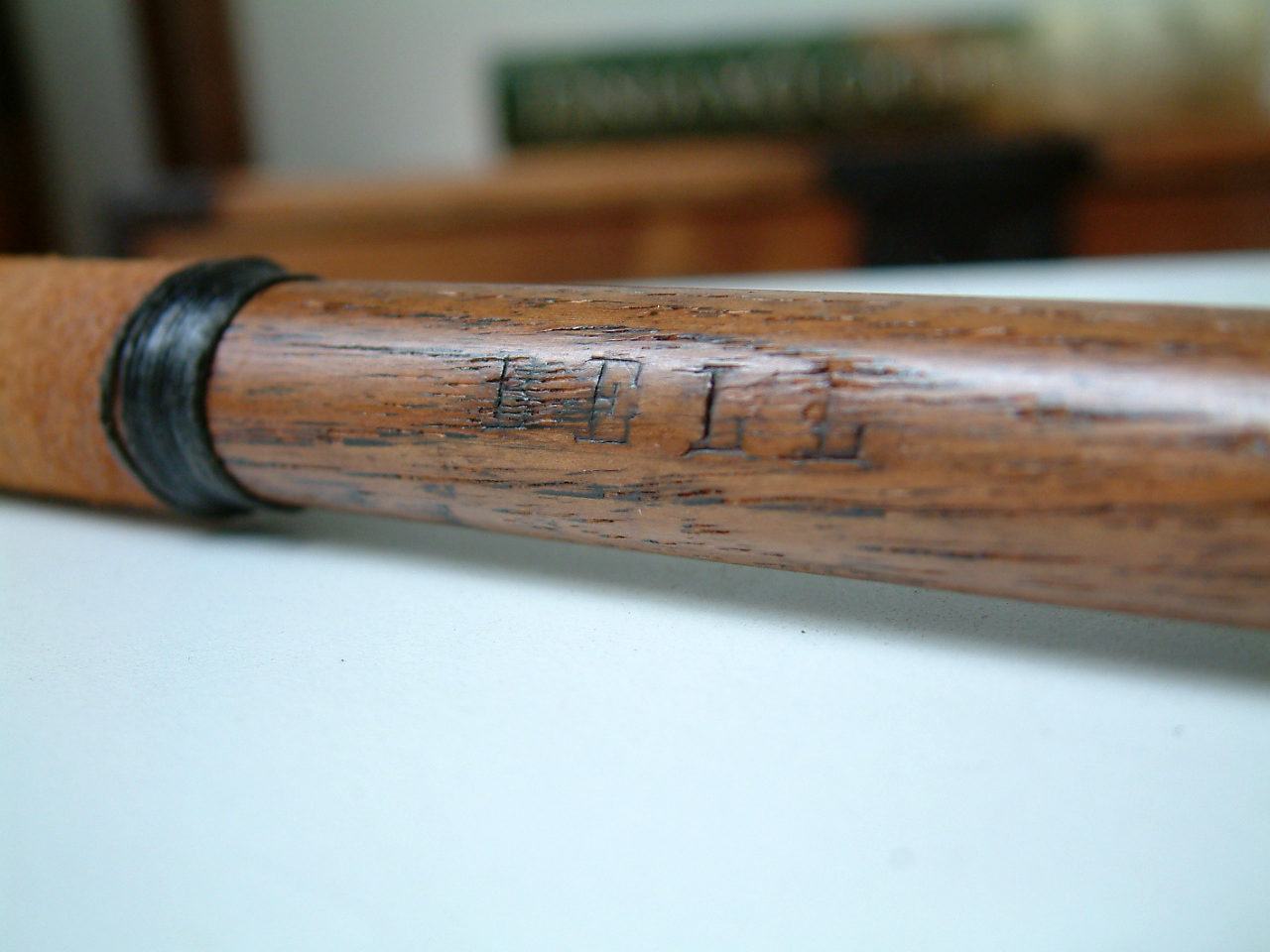 This club is curious.  I purchased this from the estate of Jack Wilson.  To some, it would appear as a fairly common SF early iron, but what immediately caught my eye was the very thick hosel, crisp knicking, and the word "BELL" in all caps punched into the shaft.  I was able to find no other visible markings on the head, but what piqued my interest was the association with the surname Bell, among the early clubmakers.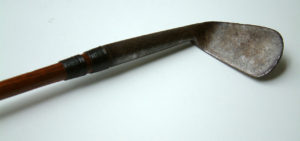 This is an exquisitely heavy iron, and while it doesn't have a full five-inch hosel, it has a very thick one nonetheless; one that compares favorably (i.e. is thicker than) examples I have by Carrick, Gray, and others.

There is a page devoted to an early longnose wood by Frank Bell in Ellis' The Clubmaker's Art.  The entry reads:
FRANK BELL
In 1870, toward the end of his career, Frank Bell was appointed professional and greenkeeper to the Dalhousie Golf Club in Carnoustie, Scotland, his wife taking the position of "housekeeper" at the same time:
"All went well for a time, although Bell was censured for keeping a pig and allowing his dog to 'run about the grounds.' Bell's greenkeeping, however, was constantly criticized, and in 1874 this part of his duty was taken from him, and he was retained as clubkeeper at a reduced wage."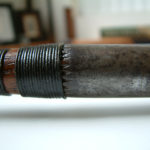 He may not have been much of a greenkeeper, but Bell was an outstanding clubmaker:
"Although ultimately sent away in disgrace after a number of domestic disagreements, Bell was recognized to be a craftsman of superior ability…At Carnoustie he carried out his clubmaking in a small wooden building in front of the clubhouse…Bell's place was taken in 1876 by David Mitchell, from St. Andrews."
Today, Bell's clubs are extremely scarce and of the highest quality.
[I took note that the club in Ellis' book carries the name in all caps, with serif, much like those on the shaft of this iron.]
AND…
It is well known that George Low apprenticed under Bell.  Low (originally, Lowe) was born on the 10th September 1856 in the small Angus hamlet of Carmyllie, the son of George (a stone quarrier) and Susan Low. Along with his parents and brothers, William, David and James, George moved to Carnoustie, Angus in 1864, where they all came under the spell of golf, with George undertaking an apprenticeship in clubmaking with Frank Bell at the Barry Links.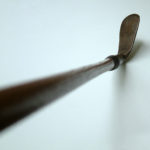 George recalled that he was still an apprentice with Bell when Old Tom Morris came to Carnoustie to extend the ten-hole course into 18 holes. Low was not impressed with the short length of a number of the holes Old Tom left them with, describing them disparagingly as "a drive and a kick".
According to George himself, he left Carnoustie for Leven after his apprenticeship and then, at the age of 21, obtained the post as assistant professional to 'Jack' Morris, the nephew of Old Tom, at the Royal Liverpool Golf Club's Hoylake course.
ALSO
In reading the superb biography of Allan Robertson by Alistair Beaton Adamson, I remembered noting the following reference, "Allan Robertson was born in St Andrews on September 11, 1815, the son of David Robertson, weaver, and Anne Bell his wife."
OR COULD IT BE ALEX BELL? (1877-1954)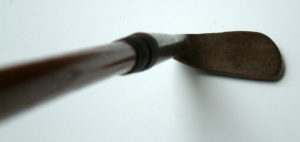 Alexander Peebles Bell, born 25th August 1877 in Anstruther, Fife, son of Thomas Bell, a cooper and his wife Margaret Peebles. Alex ' Sandy' Bell moved with his parents and three sisters to Edinburgh in 1890 and was living at 258, Leith Walk. Sandy Bell served a five-year apprenticeship as a club maker with James H. Hutchison in his workshop on the West Links North Berwick. Among the other apprentices mentioned below were David Stephenson, Robert Johnstone and Alex McLaren who pioneered golf in Australia, California and Hawaii.
David Stephenson emigrated to America in 1898 and was appointed greenkeeper and instructor at San Francisco Golf Club. He was followed by Robert Johnstone who recommended Alex Bell for the vacant position at San Rafael Golf Club. Bell emigrated to America and arrived in California on 18th May 1901. He remained at the Happy Valley links during the summer and in the winter, he assisted Robert Johnstone at the Presidio links in San Francisco. In 1905 when Johnstone moved to Seattle, Sandy Bell took over at San Francisco Golf and Country Club at Ingleside.
Alex McLaren sailed from North Berwick to Melbourne, Australia in 1903 and four years later he was invited to take up a position in Honolulu in the Territory of Hawaii. He arrived on Friday 15th November 1907 and was the first pro at Oahu Country Club. He set about lengthening the nine-hole Oahu course, and adding more difficult bunkers. He was also asked by landowner Samuel Damon to upgrade the neighboring course at Moanalua Golf Club laid out in 1898 by Donald MacIntyre from Bonhill, Dunbartonshire. Macintyre apprenticed at the Royal Botanic Gardens, Edinburgh and was assisted by Alexander Gravie in laying out the Moanalua gardens. When Alex McLaren moved to Annandale Golf Club, California in 1909, Sandy Bell was appointed head pro at Oahu Country Club where he extended the course to eighteen holes in 1913. Sandy married Jennie Smith and resided with their twins Arthur and Bernice on Puunui Avenue adjacent to the golf course.
Bell was an outstanding instructor and coached Codie Austin winner of the Women's Champion of The Hawaiian Island two consecutive years from 1935. Sandy designed and laid out the nine-hole course at Maui Country Club, Hawaii with the assistance of Willie McEwan in 1927.