Stewart SF Iron for Portrush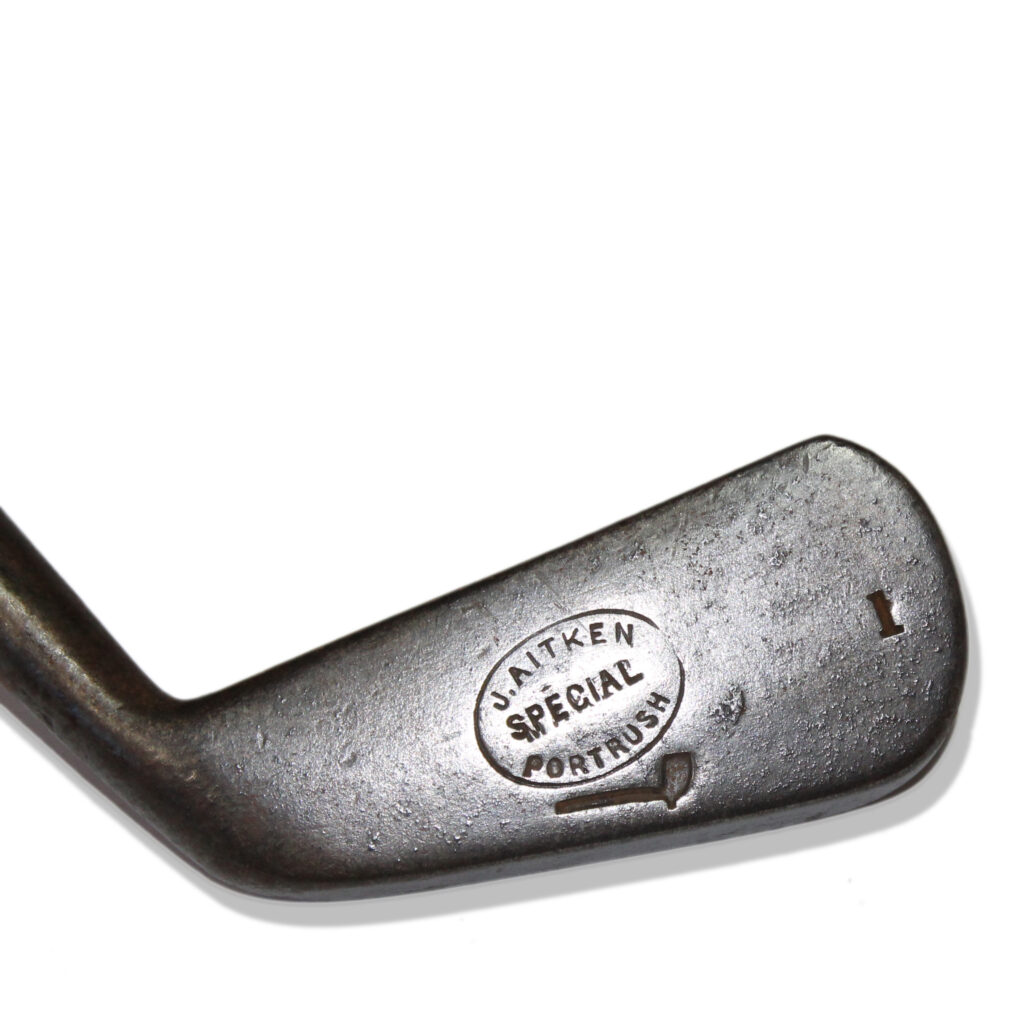 This is a c.1898 smooth face Tom Steward iron with an "I" stamped to the head, made for John Aitken at Portrush (founded in 1888).  Aitken was official club and ball-maker there from 1892 until 1905.  On close inspection, one can see that Stewart initially stamped the word MAKER in the center of the oval, then re-stamped it as SPECIAL, to denote that Aiken was the seller, not the maker.
John Veitch Aitken (1868–1916)
As listed in the Irish Golf Achive, Aitken married Isobel (Isabella) in 1893 who was a native of County Antrim. Together, they had two daughters, Lily (1894) and May (1897). John was a golf club maker by trade. Douglas McEwan the famous club and ball maker worked from 36, Wright's Houses where the Aitken brothers were taught the art of club-making. According to the 1911 census, he lived at Number 10 Main Street in Portrush with three boarders and one servant.
Aitken grew up in the Bruntsfield area of Edinburgh. There's was a golfing family as John's brother Alexander was also a clubmaker from 1892-1912 and had an association with Royal Portrush Golf Club as well, although Alex was linked more with Gullane Golf Club where, according to Pete Georgiady's book, The Compendium of British Club Makers, the press described a set of clubs he made for Mr. Arthur Balfour (Prime Minister) as "the finest set of golf clubs ever made."  John had another brother, Adam, who was also involved in the sport but died at a young age.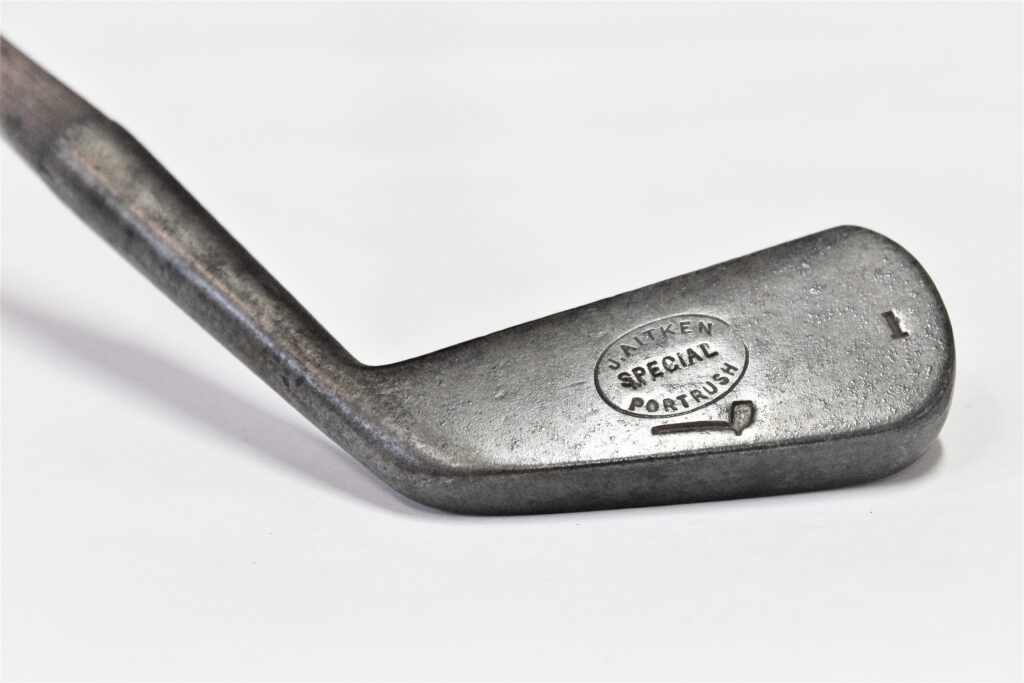 A founding member of the Irish Professional Golfers' Association (June 1911) and appointed as one of the four professionals (along with Tom Hood, Alex Robertson and James McKenna), Aitken took part in a joint committee for the purpose of drafting the IPGA constitution and a framework for the benevolent fund.
A centenary book tells the story of the "Portrush Lily," a gutta percha bramble ball which is housed in their museum. The ball was made by Aitken c. 1895 and he named it after his daughter who was probably only a year or two old at the time.

In Jeffrey B. Ellis's seminal work, The Clubmaker's Art, John Aitken is attributed with developing a club called "The Bap" when he quotes from an article in the magazine Golf date 27 December 1895.
Scottish and English Golfers who were present at Portrush, at the big Autumn tournament held there, could not help noticing the broad-headed driver clubs sent out by John Aitken, the club-maker attached to the Royal County Club at Portrush. ….The club is known as "The Bap" the name given in the Scots tongue to the round breakfast roll. The head, which is made of the finest Irish beech, is three inches broad, with a face of 1 1/4 inches in depth.
The Autumn meeting referred to above was the first professional golf tournament staged in Ireland on the 12-14 September 1895.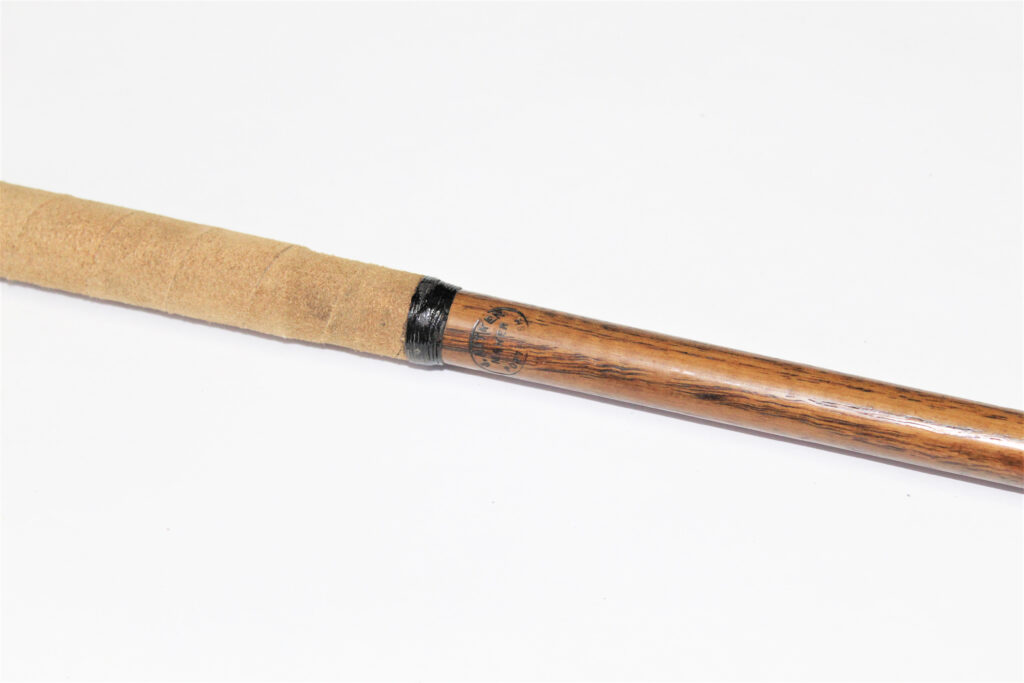 John Aitken remained as a club and ball maker at Royal Portrush golf club until 1911 when his role was taken over by Melville Brown. In 1911, John was a founder member of the Irish Professional Golfers' Association and was appointed as one of four professionals to draft their constitution. He died on 27th September 1916 and is buried in Ballywillan Old Graveyard, Portrush. His wife, Isabella, and two daughters (Lily and Mai) are buried nearby in Ballywillan New Graveyard.
The Siblings:
Alex Aitken produced a set of clubs in his workshop at Gullane for the Prime Minister Hon. Arthur J. Balfour, and in 1897 he was exporting clubs to P. F. Murphy & Co in Boston, USA. In 1905 the Gullane Ladies Golf Club rented a large shed in Saltcoats Road belonging to Alex Aitken as their first clubhouse. Following WW1 Alex moved to 2 Lammerview Terrace, Gullane where he died on 27th March 1944 aged 79 years. There are some fine examples of Alex Aitken's club-making still in existence.
Alex's brother Thomas Aitken was appointed professional at Great Yarmouth G.C (1892-1911). He was a PGA member in 1902 and 1911, and spent a year at Stanwell (Shortwood Common), Stains. Tom moved to Gorleston (1912-17), then Northampton (1920-22), and Milford Haven (1922-30), before settling at Gloucester (1930-32). Tom played an exhibition match with Percy Alliss at the opening of the Milford Haven course in 1933.