Early Morristown Niblick c.1900
This MORRISTOWN series smooth face niblick, c. 1898-1902 by Spalding, is in tremendous, original condition.  It sports a bold, clear Morristown shaft stamp and period (original?) sheepskin grip. This really is a magnificent club.  It is carried by a heavy, strong, perfectly straight shaft and an E+ swingweight.  There is a bold crease in the clubhead and rich, dark patina throughout. The club is 38 inches long with a 4 inch hosel.
This particular club was trotted out to the local pro at Gearhart Golf Links in Oregon when our playing association held its 2015 tournament.  A member of the club had several hickories and wanted our members to see his wears.  Naturally, a bunch of us took an interest in this club as it is clearly early and in what appears to be original condition.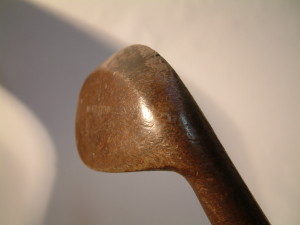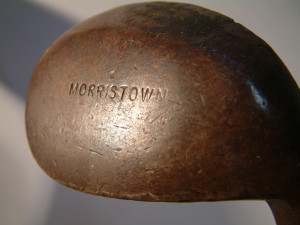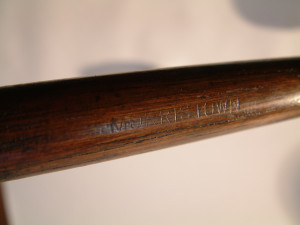 One player asserted that the club is unplayable as it has a "negative bounce," but for me, that is one of its many attractions.  I was able to compare this club to my 1890s Stewart rut niblick side by side before acquiring it through an auction at the end of the event.  The Morristown is very slightly larger than the rut niblick, but similar in cut and relative scale.  I love its heavyweight feel.  The "negative bounce" allows its user to really open the face and let it drop effortlessly into the shot.
As with so many early clubs, I have found it best not to force the issue when attempting to execute a shot.  These old clubs will do the task if given the chance.  Some need merely to be guided.  Others cajoled.  But the disproportionate weight of the heads is clearly the boss.  When it meets an object, its velocity and mass handle the transaction and the results can be startling.
With longer faces on very early clubs, I sometimes find it hard to get the face back to square on the downswing.  The weight going back tends to want to further open the face of these longnose clubs.  This gem, however, doesn't suffer from that characteristic.  It has the heft, but a short, stubby face.
It has been a joy to conjure shots from 85 yards and in with this club.  Actually, I like it from outside 30 yards.  The weight of the head makes it hard to utilize reliably close to a pin.  My Stewart tends to be an optimum utility club around the greens and even in bunkers, but with an even smaller face, one must be careful not to shank the ball.
The Morristown mark came into use in1898 and is believed to be one of Spalding's first drop forged irons (as opposed to the hand forged that preceded it). The mark was changed in 1901 when the baseball Spalding logo was added to it.  The  J.M. Cooper early Spalding Book goes on to say the Morristown line of clubs was aimed to be less expensive for players as well.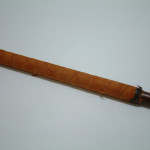 "It is amusing to examine prices asked for new golf clubs and golf balls one hundred [sic] years ago. In 1897, the "Spalding" brand woods and iron clubs, their top line, were priced at $1.50 per club. The Cran Cleek was $2.  Spalding also marketed a less expensive line of clubs, "Morristown," priced at $1 each.  Morristown children's clubs were 75 cents each.  Premium golf balls were $3.50 a dozen. These balls were still made of molded gutta percha at that time. A golfer could buy a golf ball press for $2.50, to be used for remolding gutta percha balls. Otherwise, the old balls could be sent to the factory for remolding at $1 per dozen."
A Spalding ad from 1900 states that "Morristown golf clubs are made of the best steel and are mounted by experienced club-makers on shafts especially adapted to the style of head."
– Rob Birman