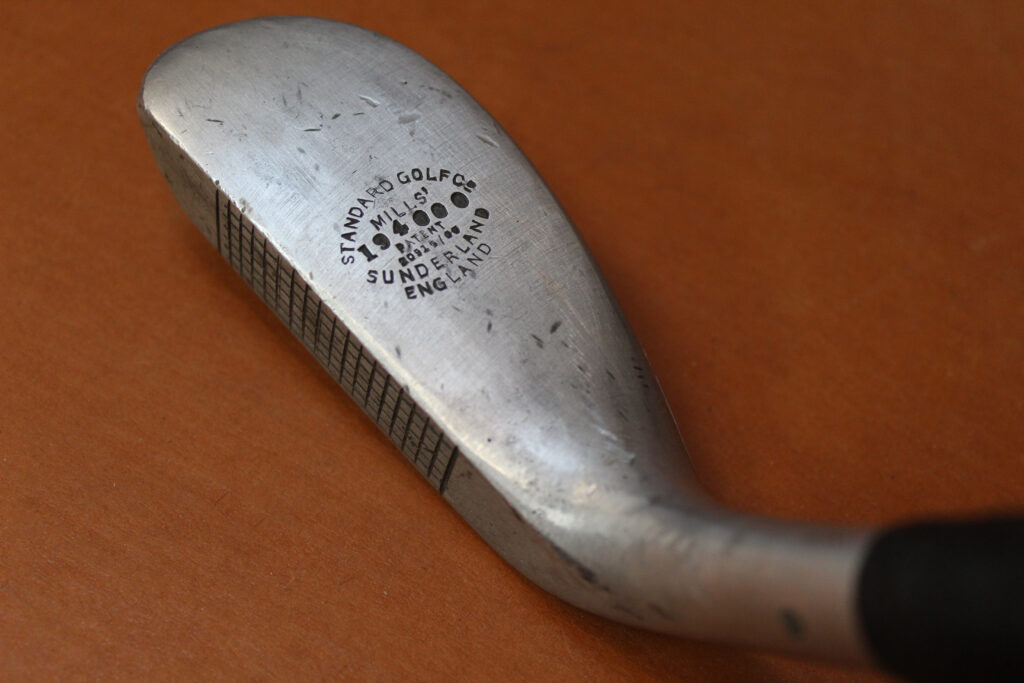 The Mills Hilton X Model Putter is made by the Standard Golf Company, c. 1910. According to the Standard Golf Company's 1909 catalog, the Mills X Model is "an exact copy of the putter used by Mr. H.H. Hilton at the [British Amateur] Championship, 1901," which he won. Between 1892 and 1913, Hilton won four British Amateurs, two U.S. Amateur titles, and two Open Championships as an amateur.
William Mills of Sunderland, England, was the most prolific designer and manufacturer of early aluminium head golf clubs and his company produced more aluminium putters than any other club maker during the wooden shafted era. He created The Standard Golf Company (William Mills, Limited), a division of The Atlas Works, to produce his clubs, commonly referred to as "Mills" clubs. While his metal woods were eventually accepted by many golfers, it was his putters that were the most popular.
Mills began experimenting with the construction of aluminium club heads as early as 1892. He produced two basic types of aluminium putters, the long nose style and the mallet. The putters all came in different weights and lies and although the long nose style putters were the first models made, it was ultimately the smaller mallet putters that became the most popular. Mills continued to offer mallet putters well into the 1920s, long after the long nose style putters went out of production.
ABOUT HAROLD HILTON
Harold Horsfall Hilton (12 January 1869 – 5 May 1942) was an English amateur golfer of the late 19th and early 20th century. He won The Open Championship twice, The Amateur Championship four times, and the U.S. Amateur Championship once.
Hilton was born in West Kirby and attended West Buckland in Devon. In 1892, he won The Open championship at Muirfield, becoming the second amateur to do so. He won again in 1897 at his home club, Royal Liverpool Golf Club, Hoylake. The only other amateurs who have won the Open Championship are John Ball and Bobby Jones.
Hilton also won the Amateur Championship on four occasions, including 1911, when he became the only British player to win the British and U.S. Amateurs in the same year. Hilton retired with a 99–29 record (77.3%) at the Amateur Championship.
From 1905 to 1915, Hilton was a member at Ashford Manor Golf Club in Middlesex, the club having been incorporated in 1902. In 1912, he played a major part in designing Ferndown Golf Club in Dorset which became an Open Championship qualifying course and one of the top 100 courses in the United Kingdom.
Hilton was also a golf writer. He was the first editor of Golf Monthly, and also the editor of Golf Illustrated. He also designed many courses and was inducted into the world Golf Hall of Fame in 1978.
Hilton died on 5 May 1942 at Westcote, Gloucestershire, England, at age 73.