E.J. Keefe Deep Grooved Niblick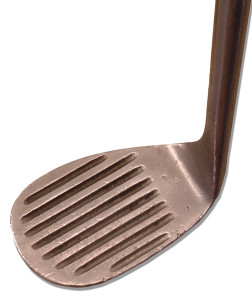 This niblick is 48 degrees, 36 inches in length and has a handsome D4 swingweight.  I use it primarily for 100 yard shots or less.  It feels though it will also be a handy club out of bunkers; but I have yet to play a round with it yet!  – Rob Birman
It's seller was Edward Joseph Keefe who was born on September 22, 1893 in Boston and died April 13, 1980 in the same city.
Born and raised in Charlestown, he married Louise Sullivan in 1915 and became a restaurant cook prior to becoming a golf pro. At one time he was known around Boston for making golf clubs and was the golf pro at various courses in the Boston area and on the New Jersey Shore.
In November of 1898, the one-hundred-fifty members of the Cambridge Golf and Country Club changed its name to Oakley Country Club. Oakley was founded upon two principles: first, to provide an opportunity for outdoor sports and second, to provide a congenial meeting place for friends. Although many changes occurred during the intervening century, the principal purposes remained the foundation of Oakley's reputation and success.
An original Charles Bulfinch-designed clubhouse was built as a residence in 1808 and – as Oakley's clubhouse – became the focal point for all activities for the first 65 years. Shortly after the club was founded, a young golfer arrived from Scotland to redesign Oakley's golf course and to compete professionally in America. It was none other than Donald Ross. He would grow from his initial employment at Oakley as a golf pro, to greenkeeper and club maker, to become one of the legendary golf course architects of the twentieth century.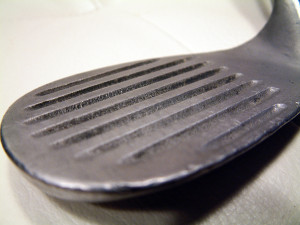 While any "Donald Ross" course is distinctive and distinguished, the uniqueness of Oakley Country Club's Golf Course is that it represents the very first Ross golf course redesign in America.
Oakley will forever hold a special place in American golf history as it is the course at which Donald Ross began his American journey that ultimately led to the design of over 400 courses; including clubs which have hosted nearly 100 U.S. Amateur or Open Championships. Oakley also boasts a historically recognized original clubhouse which was the only suburban residence ever designed by Charles Bulfinch, the first great American architect. With a foundation of Ross and Bulfinch, Oakley is sometimes thought of as the "Home of American Golf Architecture."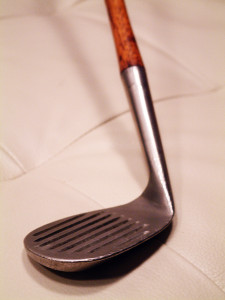 Oakley, which sits high on a historic hill and commands a spectacular view of Boston, is much more than golf course and clubhouse design, however. Oakley history, in many ways, mirrors that of golf in America. Oakley was founded in the very early days of golf in this country and had a prominent role in many stages of golf's development. Oakley was visited by future presidents and some of the great champions of the game. The club was faced with many critical decisions along the way, recovered from devastating fires, and was blessed with great leaders who helped to guide the club through the stormy waters. Oakley also saw its membership profile change with the times and its surrounding community and today Oakley has a broad tapestry of America within its membership.
Ross eventually departed Oakley for the sand hills of North Carolina at the invitation of Mr. Tufts (Bostonian) to lay out the golfing grounds at his new resort, Pinehurst.
E.J. Keefe is mentioned in two articles from the teens:
---
Boston Daily Globe, 12 Nov. 1916, p. 56
SCOTCH FOURSOMES FOR CLUBMAKERS
Unique Tournament at Belmont Club
By D. J. McGUINESS
A tournament, which is an innovation in golf circles, will be played tomorrow at the Belmont Spring Country Club. It will consist of a 36-holes Scotch foursome starting at 9 a. m. and will be open to clubmakers and assistants affiliated with sporting goods houses and at the different golf clubs of the Greater Boston district.
Five money prizes will be given for the teams having the best scores as follows: First, $20; second, $10; third $5; fourth, $5 and 5 for the best morning and afternoon round. No entrance fee will be charged. Post entries are not allowed.
The committee in charge of the tournament comprise Harry Sparling, one of the oldest clubmakers in the country, John Monroe and Thomas Dawson. After the play is concluded the players competing with a number of guests, including those who donated to make the affair worth the while, will attend a banquet at the Quincy House which is scheduled for 7:30 p. m.
At the present time there are about 30 entered for the play. The list includes Tom Dawson, who entered the clubmaking business about 11 years ago at Prestwick, under David Kinnel, and at one time was a brother worker with Jack Gordon, now professional at the Rhode Island Country Club, not to mention being a clubmaker for Harry Vardon, in the British champion's shop at Tauntonbridge.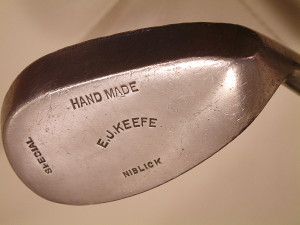 Another golfer who is rated in among the best in the tourney is James Carroll, who learned the clubmaking business at Prestwick, and who is now with Louis Tellier of the Country Club Brookline. Harry Nicoll, brother to Burt Nicoll of the Belmont Spring Country Club, is another player who is picked by many to give a good account of himself in play tomorrow. He has been with Charles Burgess, home professional at the Woodland Club for several years and is rated as a player of promise.
Besides the players named above the list of entries includes the following: Joseph Hackett, J. H. Earls, A. J. Costello, Harry Sparling, John Monroe, Francis Duggan, Wm. Hyslop, Louis Forte, Edward Keefe, John H. Brady, Andrew Keefe, Wm. Fitzgerald, Wm. Moore, W. J. Ring, George Kerrigan, Charles Burgess Jr., Fred Macdonald, Edward Costello, Joseph Sheridan, Fred Rause, Alec Olsen, Joseph McHugh, John Holman, Joseph Howe, of Scarboro fame, Wilbur Johnson, Fred McCann, T. C. Cann, Thomas Lally and James McIntyre.
Several of the most prominent sporting goods houses in this section have contributed $75, while eight professionals have donated $50 to make the tournament a success. The pros who have contributed from five to 10 dollars apiece are Michael J. Brady, Louis Tellier, Harry Bowler, Burt Nicoll, James Kaye, Leon Macdonald, Wm. Ogg, Charles Burgess, Warren Webb and George Bowden. While only $50 will go to the players finishing in the money the rest will be spent for the entertainment of the golfers at the banquet.
---
Boston Daily Globe, 14 Nov. 1916, p. 7
NICOLL AND HACKETT DIVIDE FIRST MONEY
Scotch Foursome for Club Makers and Assistants
By D. J. McGUINESS
WAVERLY, Nov. 13—A great success was scored at the Belmont Country Club today in the 36-hole Scotch foursome event held for club makers and their assistants in Greater Boston.
Six sets of prizes were donated through the generosity of the local professionals, who took this way to show their appreciation of the work done by the men who have everything to do with the game of golf except the playing end.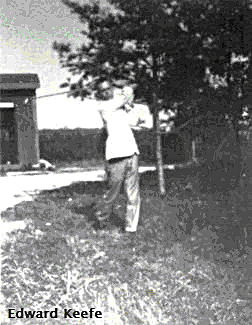 First honors and the first cash prize of $20 was divided between Harry Nicoll of Woodland and Joe Hackett of Boston. This winning combination scored the best individual morning and afternoon rounds, 84 and 85, and their total of 169 beat their nearest rival by 10 strokes.
In the forenoon, Nicoll holed a 25-foot putt at the third hole for a three. The only six going out was made at the 8th, where Hackett's second shot failed to get home.
Second honors went to J. J. Costello of Boston and Charles Burgess Jr., son of the Woodland Golf Club "pro." They totaled 179 and divided $10.
Three pairs tied for the last two money places and in the playoff G. Kerrigan and Tom Dawson of Boston and J. H. Brady, Boston, and A. Ohlson, Albemarle, won over T. Lally, Country and A. McCann, Boston.
Special $5 prizes for the best a. m. and p. m. rounds, to be won by players not in the money for the 36 holes, went to J. T. Earls, Commonwealth and Edward Keefe, Oakley. They totaled 87. They disqualified themselves for second money by reporting to the committee the fact that Earls at the 13th hole in the afternoon round hit his ball twice in succession for the green, when it lay on the lip of the cup and it was Keefe's turn to hole out. They were highly complimented for reporting this breach of the rules.
After the round was over the entire list of players were guests at a banquet at the Quincy House. In addition there were several notables, including Francis Ouimet, the former National open and amateur champion; J. Albert Scott, the golf lecturer; and the heads of Boston sporting goods houses where these clubmaking golfers are employed.