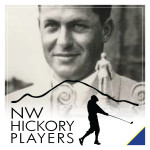 Northwest Hickory Players welcome all interested golfers to join us for our open events.  We visit many courses in the Pacific Northwest.  Players cover their own greens fees and meals; there are no membership costs or obligations of any kind.
Our members have playsets of vintage hickory clubs (including carry bags) which are available for most events for a very low daily rental fee.  Many times we also host club swaps, club sales and other activities following the round.  It's a convivial group and we are delighted to welcome first-time, curious golfers to seasoned experts!  Club pros often join us as well, as do newcomers to the sport.   Experience the sights, sounds and feel as golf was meant to be played in its early American form.  You'll be thrilled to discover the brilliance of shot-making skills, tempo, and the thrill of the old school benefits of a day on the links.  No handicaps are required!
Please visit this page regularly as new events will be posted.
---
UPCOMING EVENTS:
Events, as they are confirmed, will be listed here.
JANUARY 1, 2024: 10TH ANNIVERSARY OUTING – MAPLEWOOD GC, RENTON WA
MARCH 24, 2024: THIRD ANNUAL WAGER CUP – WHITE HORSE GC, KINGSTON, WA
MAY 17 OR 18, 2024: 100TH ANNIVERSARY CELEBRATION – GLEN ACRES GOLF & CC, SEATTLE, WA
JULY 13 & 14, 2024: THE COLUMBIA CUP AT GEARHART – GEARHART GOLF LINKS, GEARHART, OR
---
Other SoHG events in the United States
CLICK HERE FOR GLOBAL EVENTS SCHEDULES