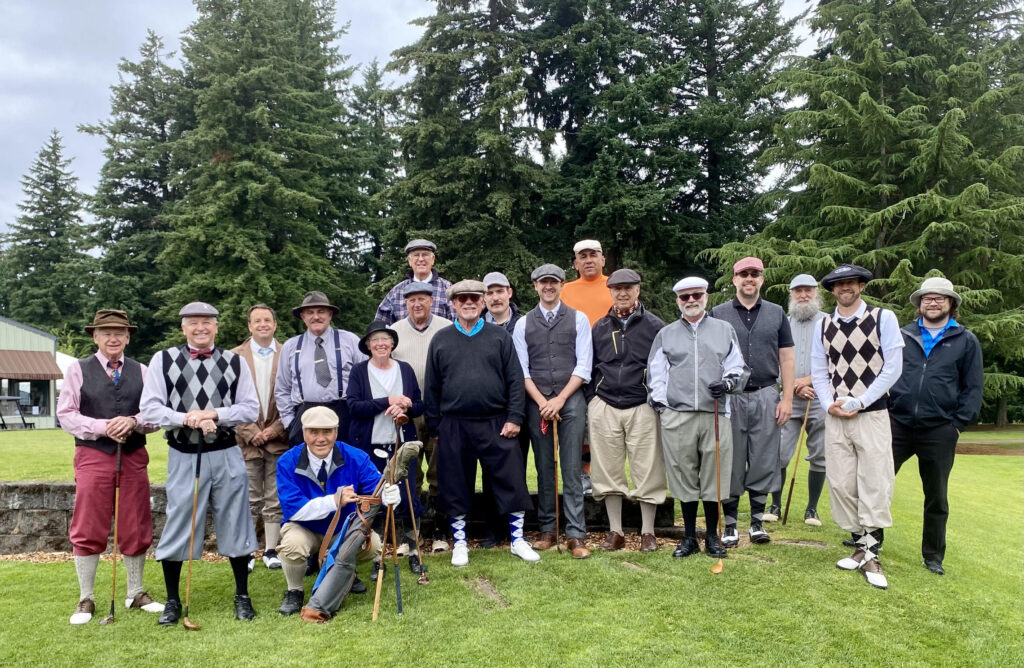 The Board of Northwest Hickory Players is proud to announce its new Affiliates™ program, established in 2021.
This program exists to encourage the organization and coordination of hickory golf events throughout Washington, Oregon, and Idaho under the auspices of the SoHG-recognized regional hickory golf association for the Pacific Northwest, Northwest Hickory Players, established in 2014.
As a multi-state association, Northwest Hickory Players has hosted events over a 900-mile region, from Spokane, Washington, to events in Northern California—notably its "C.O.W. Cup," (California vs. Oregon and Washington match play event, in association with NorCal Hickory Golf) and the inaugural U.S. Hickory Open on the American West Coast, at Del Monte Golf Course in 2017, part of Pebble Beach Resorts.
The NWHP Affiliates™ program is an invitation-only program for enthusiast and event organizers who embrace the guidelines of the Society of Hickory Golfers and comport themselves in the spirit of the game consistent with the values and practices of Northwest Hickory Players. It is NWHP's way of expanding the coordination of events over a wide area as they work to build interest in the game. As of April 2021, Washington State boasts the largest number of members from any state in the Society of Hickory Golfers.
Four Affiliates are announced.  Tom and Sue Tracy from Star, Idaho; Brad Harvey from Portland, Oregon; and Brandon Bunke from Portland, Oregon. NWHP presently has five (5) upcoming events in the state of Oregon in 2021, including their role as host of the 2021 U.S. Hickory Open at Gearhart Golf Links in September. Other events include an Oregon Hickory Open and three other events organized by Harvey and Bunke.

Affiliate members may not impose membership dues to participate in NWHP sanctioned events. NWHP is a voluntary association of golfers formed to enjoy and encourage playing golf exclusively with hickory era, pre-1935 equipment.  The intent is to focus on Oregon, Washington, British Columbia and neighboring states.
Affiliates are invited to join NWHP by a majority vote of its board of directors, and terms last for one (1) year and are to be self-renewing unless otherwise determined by the NWHP Board.
NWHP supports Affiliate events through event listings on its website, e-mail promotions to its membership, and posts on its social media outlets. Where feasible, NWHP also endeavors to support regional events with access to NWHP promotional materials, banners and other assistance as appropriate.