Northwest Golf Collectors Trade Show
March 27 & 28 in Oregon

The 33rd Northwest Golf Collectors Trade Show hosted by longtime Golf Collectors Society member and golf professional Pat Sutton will be held March 27 and 28 at the Riverside Golf and Country Club in Portland, Oregon. This is always a popular show with many fine golf antiques and collectibles. Trade Show hours are generally from 9 a.m. to 6 p.m. on Friday, March 27 and Saturday, March 28. Free admission for the public and free parking. Exhibitor display tables are $40 each and set-ups can occur at 5 p.m. on Thursday. The public is encouraged to bring golf collectibles for free appraisals. Riverside G&CC is at 8105 Northeast 33rd Drive. Contact Pat for information at 503-267-8802. Or email:  [email protected].
This is an opportunity for you to find golf antiques and collectibles, including hickory clubs, and meet other golf enthusiasts and historians.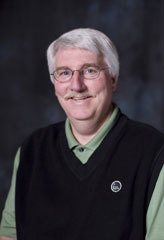 Riverside's pro, Pat Sutton, is a native Oregonian who graduated from Oregon State University with a Bachelor of Arts in 1978. He has spent his entire career at Riverside, beginning as an assistant golf pro in 1978. He became the Head Golf Professional in 1983, the year he became a member of the Professional Golf Association. Pat has served on the Oregon Chapter (PGA) Board of Directors and as Vice President and Tournament Chairman. Pat's lowest round is 65 at Riverside and again at Mountain View. As a golf historian, Pat is an avid collector of rare golf books, balls and clubs.  Mr. Sutton finds promising antique golf clubs and memorabilia from across the world. Pat often travels throughout the United States, Scotland, France, Belgium and Canada to add even the finest items to his historic golf arsenal.