A sad update to "A brush with true history"
Dick Estey (1930–2016), World Renowned Golf Collector, Has Passed
A giant in the world of golf collecting, Dick Estey, 86, died recently at his winter residence in Rancho Mirage, California, as a result of complications following a fall.
A life-long resident of Portland, Oregon, Estey was an accomplished golfer from an early age.  He won the Oregon Junior Championship in 1946 and had aspirations to turn pro.  He was exposed to a pro's life when he caddied for Sam Snead in an exhibition match in 1946 and for Henry Cotton in the 1947 Ryder Cup held at Portland Golf Club.  Perhaps sensing the difficult life of a golf professional, he entered into his family business following school.  The success of his business as distributor of farm and restaurant equipment, as well as his business interests in Crater Lake and Oregon Caves, provided him with the means to acquire his golf collection.
Later in his life, Estey travelled the world competing in senior amateur golf tournaments and has been ranked as high as No. 2 nationally.  His resume includes wins in the Canadian Senior Amateur, the Mexican Senior Amateur (five times) and twice runner-up in the British Senior Amateur.  When his competitive days were behind him, Estey turned to studying the history of the game. As his interest grew, so did his collection.
Few golf collectors in the world have the means to simply go get what they want.  Dick Estey was one such collector.  His collection spans the history and evolution of golf and includes some of the rarest original clubs in the world.  It includes a putter used by Willie Park Sr. to win the British Open in 1863 as well a play club used by Young Tom Morris to win in 1870.  In addition to hundreds of clubs, the collection includes featheries, early gutties, original paintings, clubmakers' tools, medals, books, ceramic, and much much more.
Only recently he acquired the famed 7-foot high portrait of Captain Henry Callender (painted by Lemuel Francis Abbott, in 1790) of Blackheath Golf Club in England as well as the 1780 putter depicted in the painting.
Housed in his penthouse condominium in Portland, Oregon, Estey's collection is considered by some as the finest private collection in the world.
Those fortunate enough to have had the opportunity to tour the "Estey Golf Museum" will have been met by a warm, affable man in his 80s and his equally affable wife Judy, and two (dare we say, affable?) Havanese dogs.  Invariably Estey will begin by gathering the group (or the individual) in front of the fireplace for a little chat and a quiz.  "Where did golf get its start?" he would ask.  "How many feathers are stuffed into a featherie ball?"  Perhaps it was his way of gauging his audience.  Or perhaps it was simply his way of putting his guests at ease.  From there, Mr. Estey would guide the group through the collection, pausing here and there to describe particular items of interest, and even opening a case or two to allow the group to touch and handle the rare clubs.  "Careful," he would say, "I paid $100,000 for that one."
What will now become of Mr. Estey's collection?  When asked, he said, "It will become my kids' problem.  They can do as they wish, but I hope the collection stays together."
– Martin Pool
An expose from Northwest Hickory Players' visit with Dick and his wife in August, 2016, follows: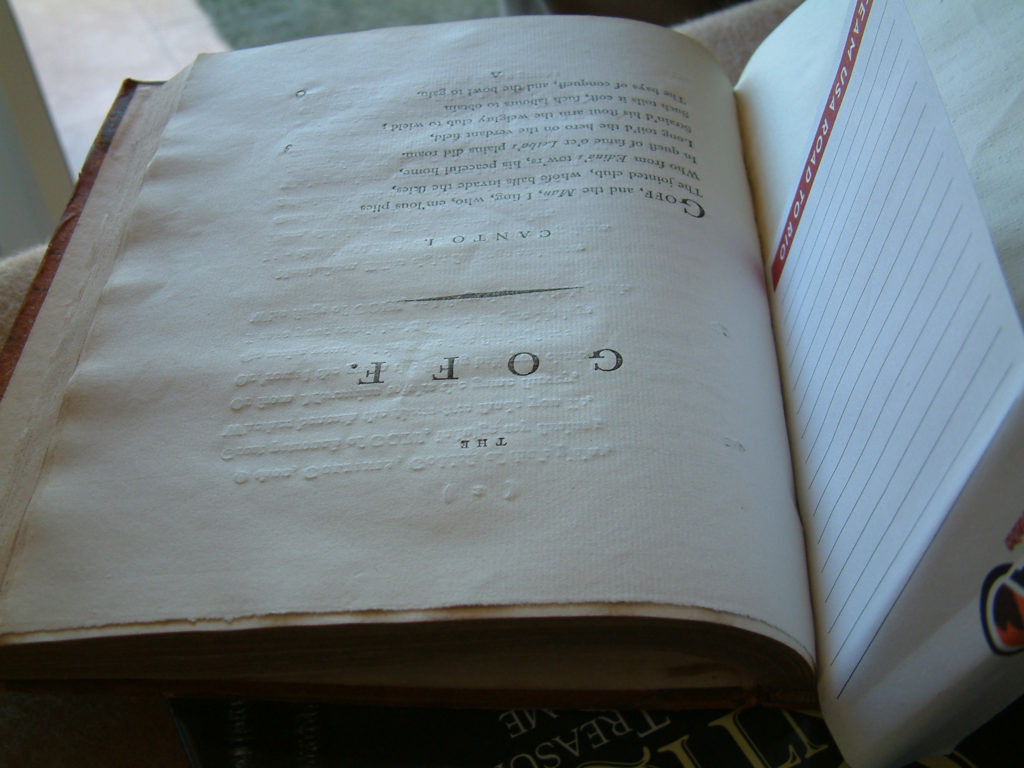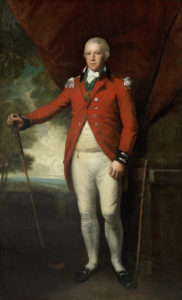 Occasionally, rarely, one is graced with a singular opportunity to brush close, very close, with history.  The founders of Northwest Hickory Players were fortunate (for two, it wasn't their earliest time) to gain access to one of the most comprehensive private collections of antiquarian golf history, from kolf in the Netherlands, to goff in Scotland, to the early modern era we all know and cherish today.  Out of respect for the collector, we choose not to elaborate on the location; it is enough to simply respectfully share a few images and details from our visit.
Few golf collectors in the world have the ability to simply go get what they want.  Some, as are known, do, and many of those rare specimens set out to guarantee that their collection is complete, at least as they see it.  This is one such collection.  It focuses on quality over quantity, and spans the range from hundreds of highly-collectible antique balls, line cutting machines (including Willie Park's own), some of the rarest existing original clubs in the world, original paintings, print and promotional material, scorecards, silver, medals, clubmakers' tools, trophies, ballot boxes, books, pottery, and so much more.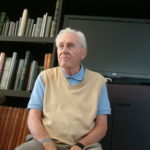 The owner was once a top-rated amateur golfer with an unending passion for the sport.  And he was blessed to be raised in a family of means.  His collection isn't showy; rather it is understated, elegant and refined.  It exists largely to please his sensibility and personal desire to know the legacy of the game.  Neatly organized in a series of ever-better display cases, all custom built for one purpose, the material is so vast that only a handful of visitors can physically enjoy the collection at one time.  And those who do are universally left with one reaction: "I wish I had an entire week to examine the exhibit."  One cannot possibly see the collection in a day – frankly we only touched the surface.  But a few hours of time in the midst of it fulfills the viewer like nothing else.
We were regaled with some of the choice stories regarding the chase.  A club here, a highly-anticipated painting there, decade-long associations with family members of the legends.  Well into the back nine of his own life, the collector wasn't any longer obsessed with every detail of every club or special item on hand.  The collection simply is too large to remember it all.  But he gave freely of his time and permitted us to handle many of the precious items, including the 1780 putter depicted in the famed 7-foot high portrait of Captain Henry Callender of Blackheath Golf Club in England, which sat neatly beside the actual $1 million canvas acquired at auction in recent months when the Club departed with both items to sustain their own legacy amid debt and other demands.  Public reports record that the putter was acquired for roughly $90,000 at the same auction.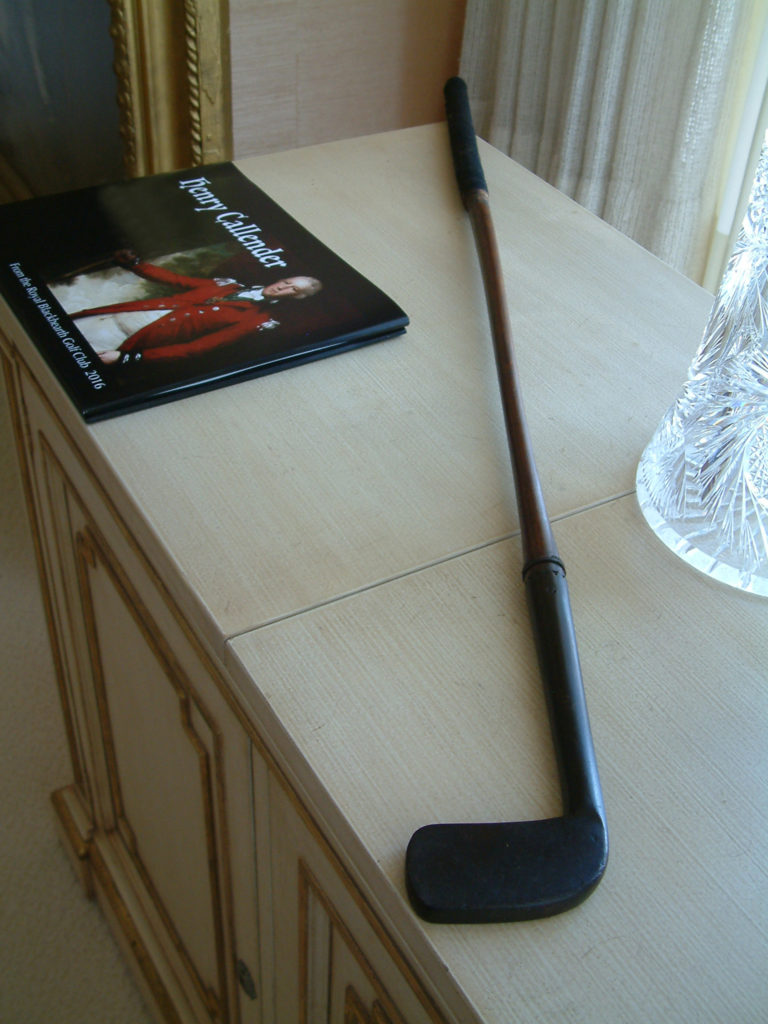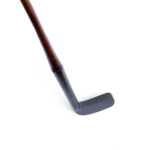 $90,000 for a putter?  This isn't any putter.  The deeply-nicked hosel is six-plus inches long, rich, dark in patina, and thick.  Thick like we mortals have never seen – or held in our hands before.  The top line of this blade is a the width of a drumstick.  I guess the stimp meter in the 1780s would have required such a weapon.  It is incredible to think of all of the golfers who have touched that club – it, along with the portrait, sat in the Blackheath clubhouse for the better part of 200 years.
Another astonishing "find" is a hexagonal gutta percha golf ball.  Serious collectors may know of these designs, but I would wager that most hickory golfers today have no notion of a ball that isn't, nor ever wished to be, round.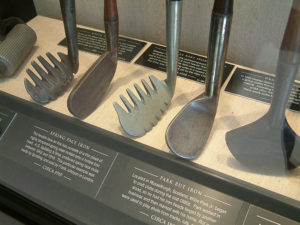 To this writer's surprise, the two clubs that stand out most are fairly ordinary by association; a Tyler patent niblick and a lovely, petite and graceful Anderson and Sons wooden niblick.  The case of square toe irons, however, held the most allure.  Their crude but finely crafted heft define, for this golfer, the mental perception of swingweight.  One member suggested they would register a "Q" in terms of swingweight – we suspect he is right!
It has always struck me that, for many, collecting can become a form of sickness.  It's likely harmless, and keeps one eager with anticipation.  I feel like I know only an inkling of that attraction from the limited chase for playclubs in the last six years, but I have always vowed to myself "not to become a collector."  The last thing I want is a basement full of unused clubs.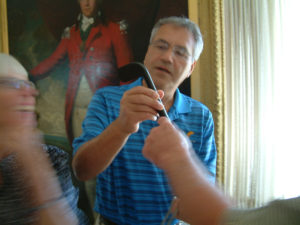 In the Northwest, we have a good many seasoned collectors with profound knowledge and a lifetime of trading stories and trips to GCS meetings and overseas destinations.  It is one of the traits of NWHP that helps us stand apart from other state associations – the mere proportion of longtime collectors.  We love that about our group.
What may happen to this collection over the coming years?  The owner wasn't certain.  I left feeling agitated that the entire lifetime of acquired items wouldn't, by design, sustain this individual's legacy, stay intact, and furnish him, himself, with perpetual glory and an association with those who will follow us.  As I wrestled with this for two days following the visit, I came to terms with the fact that an eventual selling off of the items by his heirs will fuel others' passions and chases, making – even with one item from this holy assembly – a centerpiece of their lifetime's passion.  And so it goes, as it has, always…
– Robert Birman