June 15, 2015 – Rainier Country Club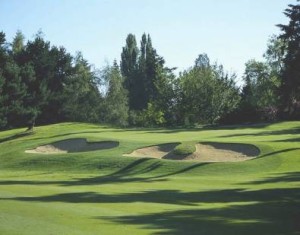 When Rainier Golf & Country Club opened it's first nine hole "golfing grounds" on September 15, 1920, it was considered one of the finest private "out-in-the-country golf links" in the Seattle Area.  Originally the course consisted of what is now the back nine and there was no clubhouse.  Bob Collins, the designer, builder, and first Golf Professional at Rainier, was quoted in the August 29, 1920 Post Intelligencer as having lined up 198 prepaid members and a long list of golfers awaiting his "golf instructional work."
Rainier, the second oldest private golf club in Seattle, has matured and evolved into one of the most imaginative and demanding tests of golf in the Northwest.  The course is a shotmaker's delight; it rewards power, finesse, and most importantly, accuracy.
The members have committed themselves to improving, maintaining and updating all aspects of the facilities.  This commitment to improvement is being made in the context of a Long Range Plan, approved annually by the members.  The pride of the members in the facilities is evident in their ongoing support of these programs.
Rainier is located an easy fifteen minute drive from downtown Seattle and offers convenient access to SeaTac International airport and all south, east and west suburbs.
NWHP is proud to partner with Puget Sound Golf Association for hickory play at this PSGA event. Greens fees are $70 plus tax per person.
Contact Puget Sound Golf Association to play this event.