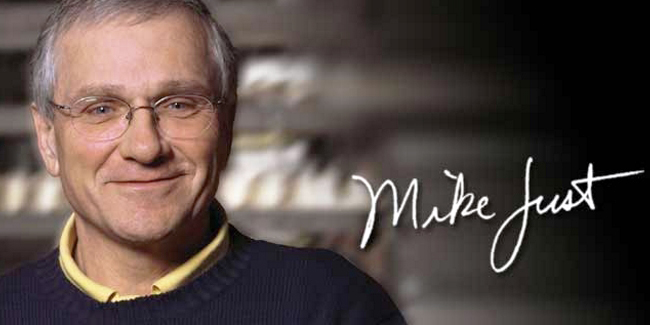 Mike Just, former owner and President of the Louisville Golf Company, passed away on October 2nd.  Northwest Hickory Players remembers Mike and his profound love of the game of hickory golf.
---
Mike Just was selected in 2013 as the Mike Brown Award honoree by the Society of Hickory Golfers.  Why Mike?  Because, each year, the Society looks for its best representative of the hickory golf community that embodies the respect for the traditions of the game of hickory golf; one who exhibits a singular dedication to growing the game of hickory golf; and a candidate who exemplifies the passion for promoting lasting friendships through hickory golf.  That was Mike Just, as much as anyone on our planet.
A remarkable number of hickory golfers in America (as well as in Europe and Asia) knew Mike, and many had the good fortune to walk the fairways with him through the years as customers, friends and advocates for his family business and his contributions to our community.
A consummate craftsman, Mike crafted replica hickory golf clubs and modern persimmon-headed clubs, and always had a generous ear for those who sought his advice.
In an interview with SoHG at the time of his award, he commented, "I got involved with hickory golf nearly fifteen years ago at the second National Hickory Championship and have been hooked since.  I have a passion for building and repairing hickory golf clubs and promoting hickory golf.  Playing hickory golf is so much fun and you meet such good people that you want everyone you meet to have that same wonderful experience.  It is an honor to have been selected for the Mike Brown Award."
Hickory golf steward, and NWHP co-founder, Rob Ahlschwede, commented, "Mike handled the unexpected loss of his brother (founder of Louisville Golf) in 2001 by stepping up to lead the company on down the road.  He became a real advocate for hickory golf, bringing replica woods, irons and putters to the market.  These are exceptional replicas, and especially beautiful woods.  He kept looking for better clubs to replicate and his last issue, the flanged Stewart irons may be the best.  He was religiously rigorous in replicating clubs as closely as possible, firmly believing–my thought–that that was a way to honor those early clubmakers from the past, and to be fair to those playing hickory golf in the modern era."
"He traveled to so many events, taking clubs to sell–many times allowing a player to borrow with no thought of a sale–and also offering to repair any club needing help.  Mike would happily sit and talk clubs with anyone at any time.  At this year's NHC, the conversation was with Lee Trevino and they talked for about an hour about repair and replication.  The rest of us just enjoyed being nearby to listen in," said Ahlschwede.
"I have been so lucky to know Mike, his wife Lynn, and the children.  The "Just Boys," his sons and nephews, have become good supporters and players in the hickory golf world.  Mike will leave a hole in our small but fierce world of hickory players."
NWHP co-founder, Rob Birman, benefitted tremendously from time spent at Mike's shop, when he was a five-year resident of Louisville.  "What a treat to play golf with Mike and watch his unpretentious play put him in the middle of the fairway off of every tee box," said Birman.  "His game matches his personality – unassuming, gracious and impressive.  He's a credit to the game and a link for nearly everyone who plays today."  Birman played numerous rounds with Mike and his business associate, Joshua Fischer, at French Lick, Mid Pines, The Highlands in Birmingham, Alabama, and at the course that Mike's brother built in Kentucky, Persimmon Ridge GC.
Birman is one of the thousands of hickory players today that credits Mike and Louisville Golf for his introduction to the game.  "I played an event at Valhalla Golf Club in Louisville, in honor of the 100th anniversary of a local charity, and as fate would have it, the organizers surprised all of the guests with knickers, socks, caps and golf shirts, and had Louisville Golf reps on the course.  Each player was invited to play the par-three eleventh hole (Rob's starting hole) with a Victor mesh-pattern ball, hickory irons and a hickory-shafted putter, and all had to drive off the first tee with a hickory driver.  I made par on the first hole, and thought to myself, 'How cool is this?'  I went online to find out more about the hobby, and discovered the USHO being played on my birthday just up the highway in French Lick, Indiana, a few days later.  I was fortunate to be in the right place at the right time."  There, he met Mike, Jay Harris, Bob Georgiade, Chris Deinlein, John Greene and others."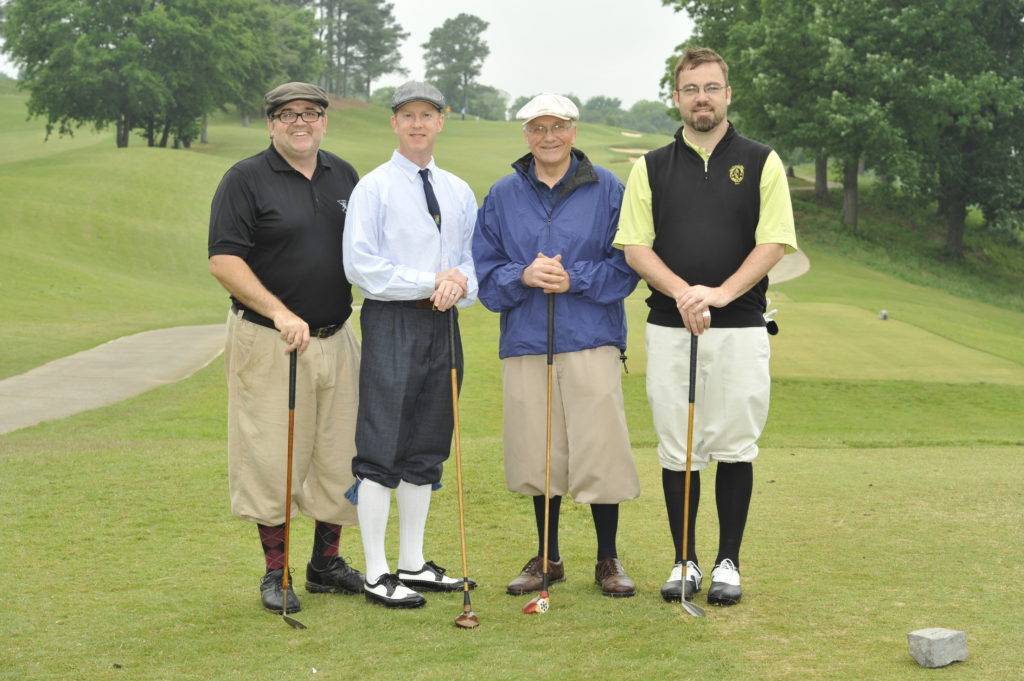 In an interview with Brian Weis some years ago, Mike recounted his upbringing which included playing high school and Division II golf as a youth.  He later played in Division II NCAA tournaments in 1970s, and won the Senior U.S. Hickory Open in 2011.  Mike recalled that he received a 2-wood, 3,5,7,9-iron and putter for graduation from the eighth grade – his first set of clubs.  He taught high school for four years before joining the family company (Louisville Golf) in 1976.
Mike cited Mid Pines in Southern Pines, North Carolina, as his favorite golf destination, and, "like a million other golfers," Augusta National as the highest aspiration to play one day.  Strangely fitting, when asked about his dream foursome, Mike chose Davis Love III, this year's Ryder Cup captain, as one of his dream playing partners, along with Arnold Palmer and Jack Nicklaus.
"There's not an aspect of the business that I'm not involved in," said Mike in an interview with Louisville Business First.  "The most important part about the process is fitting the person properly for a golf club that's going to allow them to play to the best of their abilities. … We only do custom assembly. … The most difficult part for anyone in the golf business is selling the club."
He went on to state, "hickory-shafted clubs went out of style in the 1930s. After I played in a tournament with a set of old hickory clubs, I started getting inquiries about manufacturing them and have actually put some of those products in our line.  Because the volume is small, I do all the building and fitting of our hickory golf clubs.
There was tournament – the National Hickory Championship – where people played with pre-1900 equipment on a course that was maintained the same way as when it was built in 1884 (Oakhurst in West Virginia)," said Just.  "Original woods from that era cost a few thousand dollars each and players didn't want to risk breaking them.  So they contacted Louisville Golf to see if we could replicate the woods.  Our involvement has always been demand driven.  After successfully replicating the pre-1900 woods, we were asked to replicate woods from the 1920s."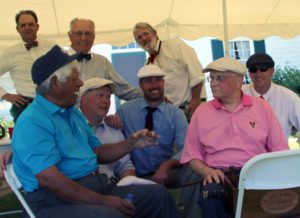 As with many endeavors that seek a connection to the historical past, debate arises over authenticity.  Some hard-line hickory golfers insist that tournament-approved clubs must be original equipment, built prior to the time when metal shafts replaced hickory ones.  A second perspective is that, due to the cost and scarcity of original, quality clubs, approved replica equipment is to be permitted in tournament play.
Mike affirmed that clubs built as far back as the 1920s were viable for use still.
"Hickory shafts can and do break, but that is a rare occurrence," he said.  "The old vintage clubs need to be refurbished before play or they are likely to fail.  But a refurbished club or a replica is much more durable than many people think.  If I hand my hickory-shafted driver to someone who has never hit a hickory-shafted club, their first reaction is, 'Is this going to break when I hit it?' The answer is obviously no.  Bobby Jones hit drives over 300-yards with his driver.  That's a lot of force on the shaft, and his clubs didn't break."
A Timeline of Louisville Golf
1974: Founded by Elmore Just as a golf equipment manufacturer
1976: Mike Just, Elmore Just's brother, comes on board as production manager
1992: Company is sold to David Rosow, who renames it Louisville Golf Design and Manufacturing
1994: Company is bought back by Elmore Just and it reclaims its original name; the company shifts focus to producing and selling its own line of equipment
2001: Founder Elmore Just dies; Mike Just becomes president (other family also work at the business)
2016: Mike Just passes following a long bought with cancer.
We shall miss Mike and his winning smile, and send our condolences and sympathies to his family and co-workers at Louisville Golf.  His legacy lives on and we are all better for having been acquainted with him.