The Rake's Progress:
Rare Clubs Fetch Record Prices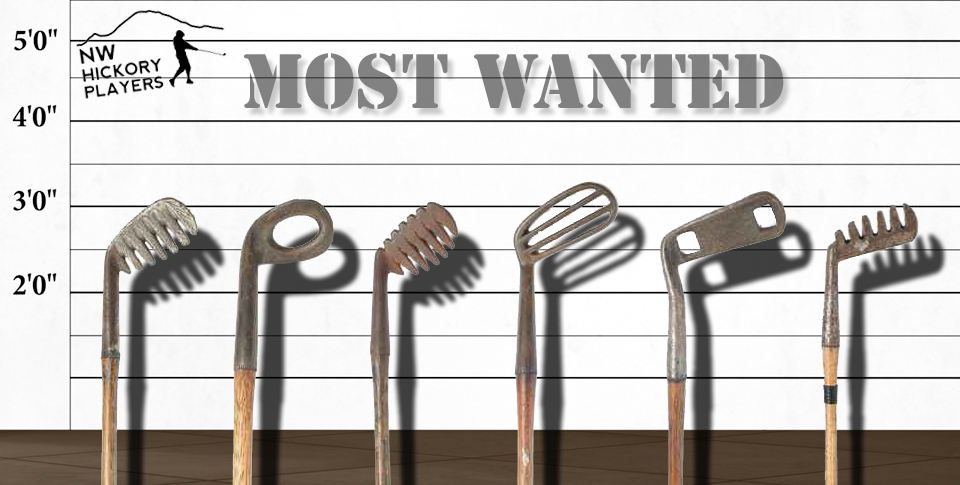 A New York Times article on sports auctions in 1989 cited what was then a growing trends and a wide shift in pricing for rare, period golf clubs. In specific, they suggested, a "lack of buyer education and the field's relative newness mean prices occasionally fluctuate wildly at auction. It also means canny buyers can pick up a bargain."
At a then-still-recent Sotheby's sale, according to the same article, "Jeffrey Ellis paid $12,672 for a large ash-headed putter whose value had been estimated at merely $400. The putter's size, shape and markings suggested to him an 18th-century club, possibly by the Scottish maker Andrew Dickson. Among its markings was "G.I.E.," which Mr. Ellis said stands for "Glasgow International Exhibition," a fair of Scottish crafts and antiques held in 1901."
In contrast, many collectors were astonished at the $80,000 paid at Christie's for a rake iron, a rake-shaped iron-headed club fashioned for hitting balls out of mud or water. It was noted that unsigned raked irons, which are not exceptionally rare per se, were selling for between $3,000 and $4,500 in that era.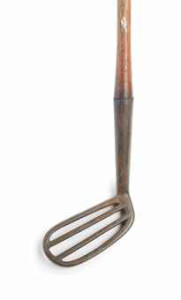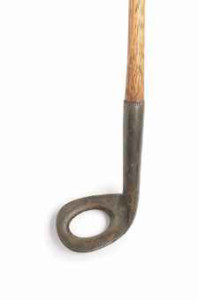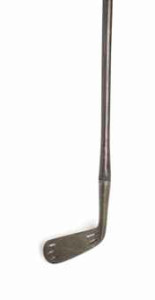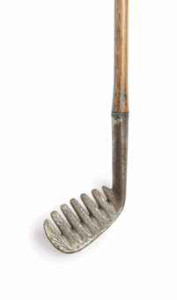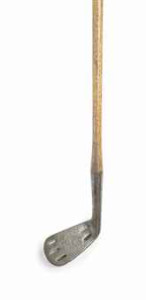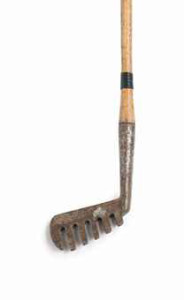 I've always lusted after these clubs, although I think it is safe to say I am unlikely ever to own one. When I first purchased Mr. Ellis' book, The Clubmaker's Art, these alluring tools seemed like the Holy Grail for a collection, to me. Since the late 80s, we have endured a global Recession and a concomitant increase in interest in playing and collecting antique clubs. I would suppose that the market, these days, is more akin to a seller's market than one favoring newer buyers. There simply are many more people watching this space today and sellers are attuned to the dynamic of supply and demand.
Two things in particular caught my eye this winter. 1) There was a global news story about 3D printing and a student at the University of Dundee who "printed" an exact replica of a rare and prized Scottish rake iron. [I will reprint one of the news accounts below.] And 2), I came upon the hammer prices of some very rare specimens at a Christie's auction held in May of 2012 (post Recession) which are interesting to note.
At an average price of more than $6,000 for the seven water irons or rake irons in that particular sale, one could play Bandon Dunes or Pinehurst No. 2 twice a month for a year. But, then again, owning one of the most coveted items in the entire field of collecting might very well give one a unique satisfaction for a lifetime.
The "Historical Dictionary of Golfing Terms from 1500 to the Present" by Peter Davies defines a rake iron as "a lofted iron club, no longer in use, having vertical slots through the face used for playing out of water and from sand." Bernard Darwin, in Country Life, cited this club as "a curious iron weapon which he calls his rake. This is an implement having a number of prongs where its face ought to be, and not only is it very effective in getting the ball out of a bunker, but it will pitch the ball over a bunker."
There are cheap replicas on the market. Buyers beware. In the meantime, the hunt for a simple yet priceless flanged niblick seems enough to keep most of us trolling the auctions!
– Rob Birman
---
[from the University of Dundee]
Metal Printed Rake Iron

As some of the world's top golfers prepare to descend upon Scotland for the 2014 Ryder Cup, researchers from the University of Dundee are celebrating the game's history with the use of the latest technology.

Grant Payne holds a 3D printed replica of a 125-year-old rake iro

They have produced the world's first metal 3D-printed clubhead using irons loaned by the British Golf Museum in St. Andrews.

The University's division of Mechanical & Electrical Engineering teamed up with St. Andrews Golf Co. to investigate the process of making high quality, authentic examples of historically important irons, woods and putters using traditional craft methods.

Today's clubs are created in such a manner that they can be manufactured with ease on modern machinery. St. Andrews Golf Co. is the only company in the world to still practice the craft of producing golf clubs by hand, which was once popular across Britain, but has now almost disappeared due to the adoption of modern, digital based production methods.

The company's Grant Payne, a Product Design graduate of the University, used his skills to convert physical to digital and back again. After 3D scanning the clubs, he used specialist programs to make accurate digital models of the clubs.

The Mechanical Engineering team then worked with colleagues in academia and industry to ready the model for printing in metal. The clubhead was recreated exactly, including dents, patina & damage collected over its 125 year life.

Grant says the project will hopefully protect these examples of rare and ancient golf clubs, as they are irreplaceable artifacts of great importance to Scotland's cultural and manufacturing heritage.

"We are delighted to have assisted in the production of the world's first metal 3D-printed clubhead. The avenues opened up by combining the latest in manufacturing technology with the traditional craftsmanship practiced by St. Andrews Golf Co Ltd are exciting. It was only made possible through our Industrial Partnership with the University and we hope it will demonstrate to people we're thinking about the future, whilst being considerate of the past." he said.

"We are the last true clubmakers, the custodians of the craft, so this was an important project for us to have taken part in, allowing us to ensure that the model was historically accurate. Frankly, without the assistance and expertise of the academics at the University this project would have impossible for us to undertake alone."

"Studying the evolution of golf clubs is one of the best ways of learning about the game's history. The two clubs we looked at are interesting because they date from a time that was known as golf's 'era of innovation', when the sport as we know it today really came into being."

The two clubs that Grant and the Dundee team worked on were a 'President' Water Iron from around 1885 made by James Anderson of Anstruther, and a Rake Iron from around five years later by an unknown maker.

The Water Iron was for golfers to play their ball from either a burn or casual water, the idea being that the club would almost 'scoop' the ball out the water. The Rake Iron owes its origins to a less-than-amused optometrist, believed to have lived in Montrose, who became fed up of having to remove sand from eyes of golfers playing at their local links. The club was designed in such a manner that it would reduce the risk of sand being cast up into the players' eyes. These are prime examples of the creativity and ingenuity of Scottish people, traits that the University of Dundee upholds and prides itself on today.

The club was carefully scanned on the Next Engine 3D Scanner in the University's Division of Mechanical & Electrical Engineering. The resulting digital imagery and geometric data was then collated to create a single fused model and small amounts of digital post-processing was undertaken to remove any 'foreign' data.

The CAD model was then sent to German company EOS, where it was printed in cobalt chrome over the course of 29 hours by a process known as Metal Laser Sintering (MLS). When the part returned to Scotland for finishing it became apparent that the clubhead was so strong it could not be drilled by St. Andrews Golf Co. using traditional methods so was sent to the University of Strathclyde's Advanced Forming Research Centre (AFRC), where engineers drilled out the hosel using high carbide drills.

The part was then returned to St. Andrews Golf Co., who then fitted the clubhead with a hickory shaft and grip, polished the head and applied a traditional clubmaker's stamp mark in keeping with the period of time that the club was dated from.
It is hoped the club, and others that may follow, will be produced for use as teaching aids at the museum and in areas of the world where there is little historical understanding of the game.