Props for the man – James Braid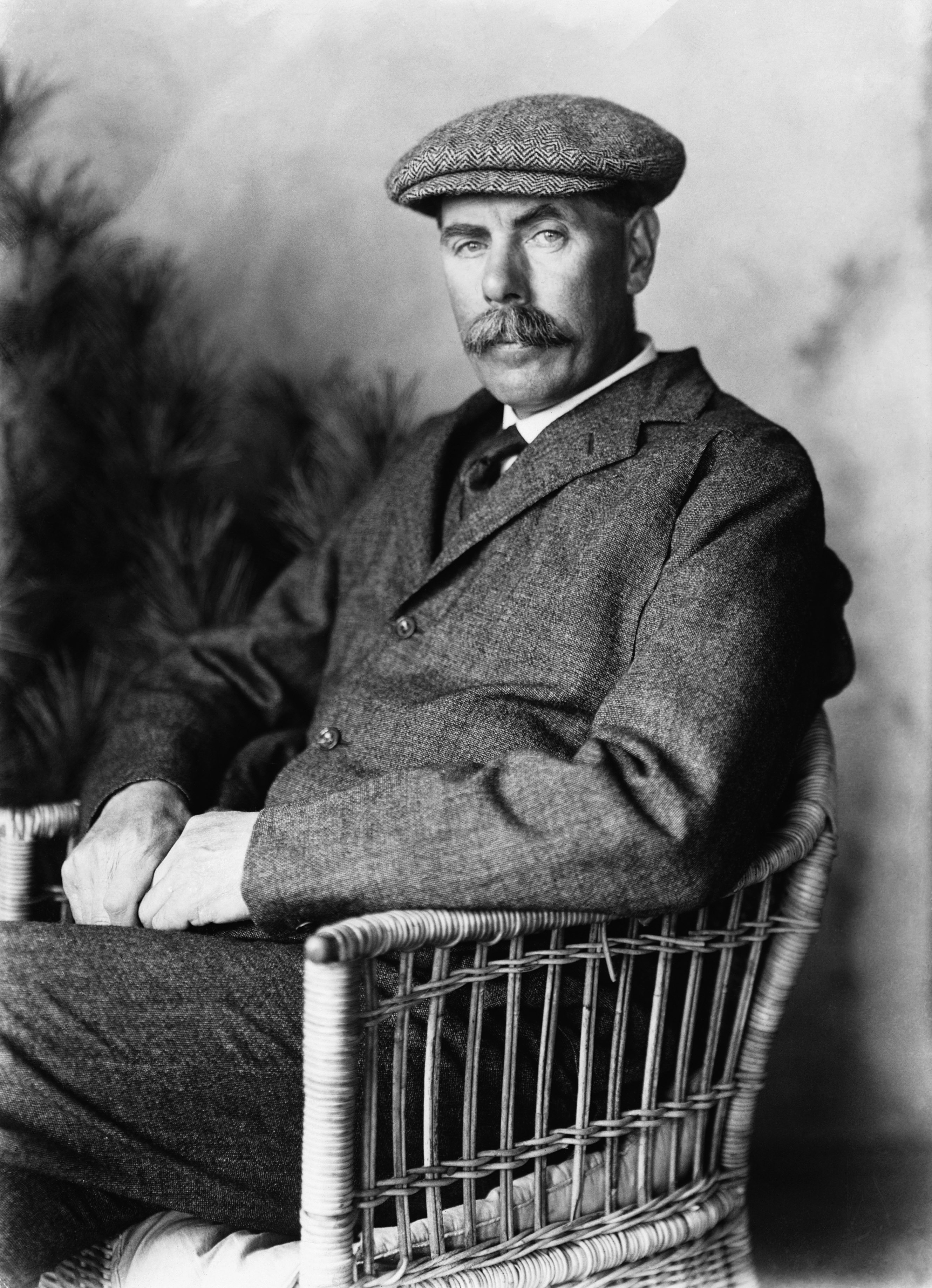 James Braid won The Open Championship five times in the span of ten years, closing out his final victory there on the 50th anniversary of the championship.  Cool stuff!
41st Open – Muirfield 1901
The first of Braid's five titles
It was at the 1901 Open at Muirfield that a new challenger emerged to the domination of Harry Vardon and JH Taylor. The pair had won six of the previous seven Opens but James Braid beat both of them for the first of five titles in ten years. Such was the Fife-born golfer's influence on the game that his name had to be bracketed along with the other two in the Great Triumvirate.
Braid was playing in The Open for the seventh time and had finished in the top-ten on every occasion, being runner-up in 1897 and finishing third in 1900. Braid's great asset was his enormous length, enabling him to reach long holes that were well beyond the capabilities of most rivals. He also had the ability to mix caution with a sudden audacious killer blow.
His start was inauspicious, however, as he hooked his first drive in the first round over a wall and out of bounds. And on his approach shot to the final hole of the last round, the shaft of his club splintered and the head flew off towards the clubhouse. More importantly the ball sailed the 200 yards required to the green and he finished with a 4 to win by three strokes from Vardon, by four from Taylor and by 11 Harold Hilton, the amateur who won the first Open at Muirfield in 1892.
Vardon had led with a first-round of 77 and he and Braid were tied after the first day. A 74 to a 79 in the third round opened up a five-shot lead for Braid and he played cautiously for a closing 80 and a total of 309. A 6 at the 16th of his final round ruined any hopes Vardon still had of catching the new Champion.
---
45th Open – St Andrews 1905
Braid escapes the railway to capture second Open
James Braid was born in Elie, 12 miles from St Andrews, and there were 4,000 people on hand to cheer a local man to victory in the 1905 Open. It was Braid's second title, having finished second, fifth and second again since his first win at Muirfield in 1901. Many years earlier he had been a young boy watching former Champion Jamie Anderson play at Elie. When Anderson watched the youngster hit balls, he said Braid might be a future Champion if he kept practicing.
Old Tom Morris was still going strong at 83 and was the official starter, although he had retired from looking after the Old Course. Recent changes had introduced a number pot bunkers which the players disliked and dismissed as "spittoons". With strong winds on the first day, no one beat 80. In fact there were only 11 scores in the 70s all tournament and Braid had two of them. After rounds of 81 and 78, another 78 in the third round put him six clear of the field. A closing 81 gave him a five-stroke victory over Wimbledon's Rowland Jones, the halfway leader after a 77 in the second round, and JH Taylor, the winner of the last two Opens at St Andrews.
Braid twice went onto the railway line on the 15th and 16th holes, costing him a 6 on each occasion. The tracks were not then out of bounds and at the 16th, having been in a bunker off the tee, his second shot finished against metal support. His first attempt moved the ball only a few feet and his next went over the green. He then played a terrific chip-and-run to a couple of inches to limit the damage. Braid received so many letters of congratulation that he posted a note of thanks in Golf Illustrated.
---
46th Open – Muirfield 1906
James Braid successfully defends his Open title
James Braid won for the second year in a row at Muirfield in 1906, making him the first Champion to successfully defend the title since Harry Vardon in 1899. After his victory there is 1901, it was his second win at Muirfield, something only Nick Faldo has repeated since. He was also only the second Champion to improve his score in each round – 77, 76, 74, 73 for a total of 300. He beat JH Taylor by four strokes and Vardon by five. It was the third time that each of the Great Triumvirate had finished in the top-three at The Open, and Braid won on two of those occasions. Braid had joined Taylor with three titles, while Vardon was still ahead with four.
A huge field of 183 meant Braid ended up playing late in the afternoon on the first two days. He blamed the long wait for his opening 77 and on the next morning organised a friendly foursomes on a nearby course to fill in the time before posting a 76. Taylor took the halfway lead thanks to a 72, during which he had gone to the turn in 41 but returned home in 31.
Braid was four behind after 36 holes but got a shot back with a 74 to Taylor's 75. In the final round Vardon four-putted the first and took a 6 at the second to fall out of contention. He finished with a 78 while Taylor's wayward driving and erratic putting led to an 80. Braid went out in 38 but a long putt for a 3 at the 17th helped him to a 73 and a comfortable victory in the end. Amateur John Graham was fourth, Rowland Jones, who went 73-83 on the last day, was fifth and Frenchman Arnaud Massy was sixth a year before his victory at Hoylake.
---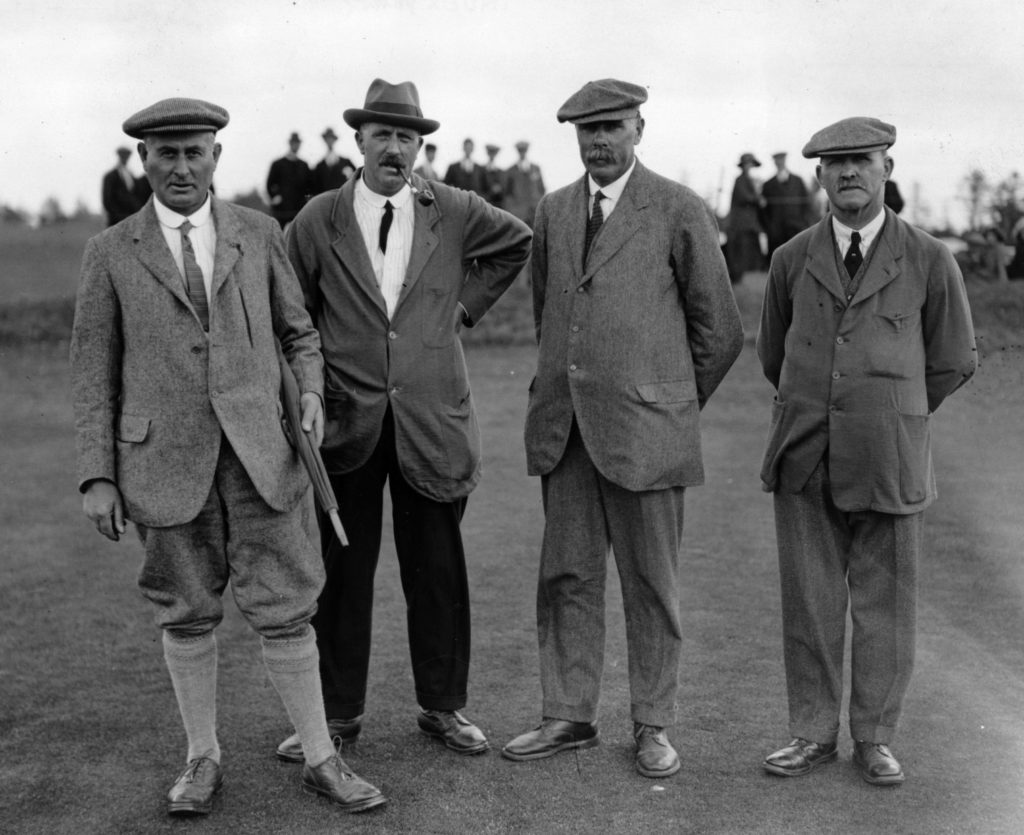 48th Open – Prestwick 1908
Braid romps to 4th Open title setting new scoring record
James Braid won his fourth Open at Prestwick in 1908 to draw alongside Willie Park Snr, Old Tom Morris, Young Tommy Morris and his contemporary Harry Vardon for the most Championship victories. Although Ernest Gray had set a new course record of 68 in the first round, Braid led all the way after that to win by eight strokes from Tom Ball and by ten from Ted Ray. He did so with a new record total of 291, five better than Jack White in 1904, the only other Champion to break 300 for 72 holes.
Gray had a 79 in the second round when Braid, after rounds of 70 and 72, established a five-stroke lead. Braid had a very shaky start to his third round. He was short with his approach shot at the first and took 5. At the third hole he found the rough off the tee and failed to carry the Cardinal Bunker with a clerk. His next shot hit the sleepers and went out of bounds and he then repeated the process after a drop. In the end, he was down for an 8. After three-putting the fourth, he began his recovery. He had a 2 at the fifth and was out in 39, finishing with a 77. On 219, Braid had still extended his lead to six over Ball and Ray.
Ball, from Hoylake but no relation of the great amateur John Ball, went out in 33 in the final round but came home in 41 for a 74, while Ray had a 76. It was the first of consecutive runner-up finishes for Ball, while it was Ray's best finish prior to his victory in 1912. Braid was back to his steady best in a final round of 72, playing the last six holes in nothing more than a 4.
---
50th Open – St Andrews 1910
Record fifth Open victory for Braid
James Braid became the first player to win five times with his victory in the 50th Open at St Andrews in 1910. Since then JH Taylor, Peter Thomson and Tom Watson have matched him and only Harry Vardon passed him. It was a magical decade for Braid, with his five wins coming in ten years exactly, which also included three runner-up finishes and two fifth places. His last four wins came in just six years. He joined Bob Martin and Taylor as a double winner at St Andrews, having also won in 1905, but remains unique in being a double winner at both St Andrews and Muirfield.
Curiously, Braid played five full rounds during The Open. The first round was interrupted by such a severe thunderstorm that the course flooded. Informed on the 13th hole that the round was being cancelled, Braid kept playing just in case the news had been wrong. He used a heavy ball so that his putts sank into the hole, while others saw their balls float away in the puddles. He returned a 76, the best score of the day so far but it did not count. He had another 76 in the first round proper, but that was three behind George Duncan.
Willie Smith, a Carnoustie-born American who won the 1899 US Open, led at halfway after scores of 77 and 71 but finished with two 80s. Duncan had a 71 in the third round to lead by two from Braid, who had gone 73, 74, but could not control his nerves in a final round of 83 that dropped him to third place. Former Champion Sandy Herd had a 76 to finish second but Braid matched him to win by four strokes with a total of 299, ten better than Taylor's previous best for St Andrews Opens.