2023 Pacific NW Gutty Championship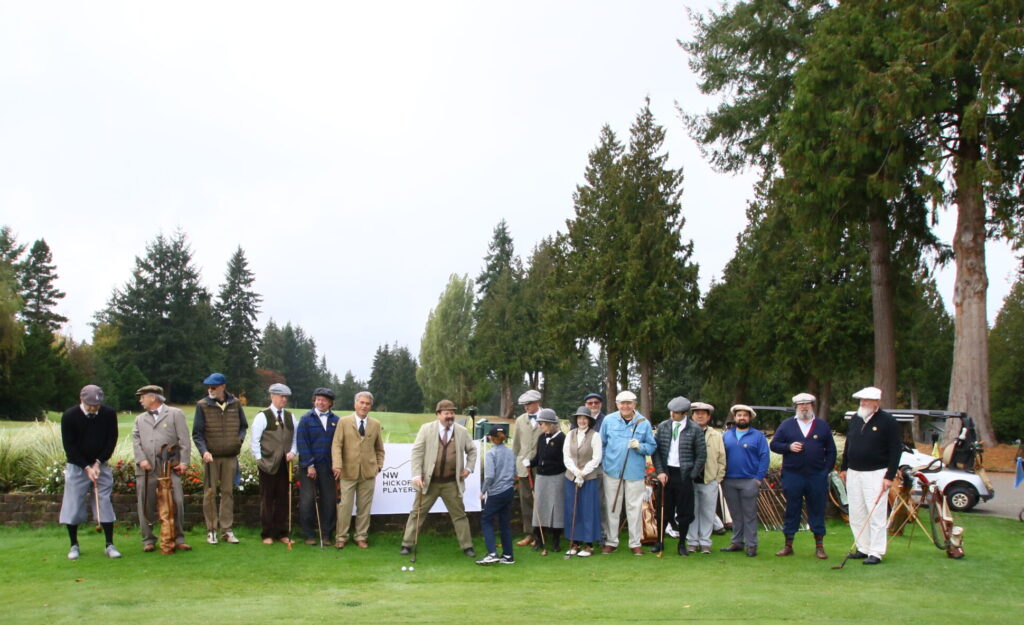 The Northwest Hickory Players are pleased to invite you to the 2023 "Pacific Northwest Gutty" to be held on SEPTEMBER 30TH at Meadowmeer Golf & Country Club on Bainbridge Island, Washington. Meadowmeer is a nine-hole woodland layout located just off the Grand Forest on Bainbridge Island. It features generous rolling fairways, large greens, and design elements which are ideal for both Gutty Golf and pre-1935 hickory play. Locals consider it a hidden gem, and the secret is starting to get out.
The Pacific Northwest Gutty is a one-day gross and net competition with men's and women's awards in three Divisions, offering three different ways to experience Gutty Golf:
Willie Park "Championship" Division – Play with Gutty-era (pre-1905) hickory shafted clubs (per NHC/Foxburg Guidelines) and McIntyre Gutty PARK MODEL golf balls.
Harry Vardon "Gutty Experience" Division – Play with your regular set of pre-1935 Hickory Clubs
and McIntyre Gutty golf balls.
James Braid "Sporting" Division – Play with your regular set of pre-1935 Hickory Clubs and McIntyre BRAID golf balls.
---
Notes:
A) The Braid Ball – McIntyre's Braid golf ball is a durable, distance-limited, non-gutty ball which was created by the owner of McIntyre Golf to offer a "gutty-like experience" at a much lower price point. Gutty events such as Foxburg, Wisconsin, The CB McDonald Championship, and even The National Hickory Championship now allow the use of this ball in a separate division versus their Championship Gutty Divisions.
B) Pre-1905 Gutty Clubs – All interested hickory players are encouraged to sign up and experience the joys of hitting the Gutty golf ball…the flight of which both Harry Vardon and James Braid both described as "elegant & magical". For those players who do not own a pre-1900 Gutty set but want to play in the Park "Championship" Division, we will have a limited amount of loaner sets available to reserve at registration. To encourage those hickory golfers who might be curious about trying Gutty, but prefer to use their own post-1905 hickory sets, we offer the option to play in the separate Harry Vardon "Gutty Experience" Division or the Braid "Sporting" Division which allows the use of any pre-1935 hickory shafted clubs.
C) Sand Tees – All play from the teeing ground will be off of SAND TEES. Rob Ahlschwede has been kind enough to acquire (and suitably decorate) metal buckets for sand and water to be placed upon each teeing ground. We will have a short demonstration before tee-off time on how to properly make sand tees, and we will also be sending out a vintage magazine article on the subject to all entrants.
D) Period Historical Format – By special arrangement of the pro-shop at Meadowmeer, we will play 18 holes starting approximately 1:00 PM. Lunch is available at the Club beginning at 11:30 a.m. This is a historically appropriate touch, as early golf events were frequently conducted in this congenial and highly civilized manner. Lunch will be included in the cost of the event. Water, Lemonade, and Iced Tea will be included and a cash bar will also be available. Lunch will be a choice of burger / cheeseburger / veggie burger / chicken sandwich with sides.
E) Attire – Gutty era period dress is encouraged but not required. We will offer a small memento/award for the best dressed man and woman (with an emphasis on historical accuracy).
F) Walking vs. Carts – Walking is HIGHLY encouraged, but carts will be available (for a separate fee from the Pro shop) for those players who need them for medical or personal reasons.
---
ENTRY FEE:
$85. Includes 18-hole greens fee, lunch, plus KP prizes, and competition awards.
2021 Champion: John Quickstad
2022 Champion: Robert Birman
Event Organizer: John Lavendowski
---